We had a great show with excellent talent, wonderful band, good food, and lots of fellowship. Rosemary and I want to thank all the players, the band, the people who brought food, and all who came to hear the great music. Hope you enjoy the pictures, Charlie

Keith Hilton from Ozark, Mo started off the morning.
Mr. Steve Melchi from Hollister, Mo
Jack Musgrave from Rogersville, MO
Eddie Lane from Branson, MO
Bob Tuttle from Springfield, MO by way of Texas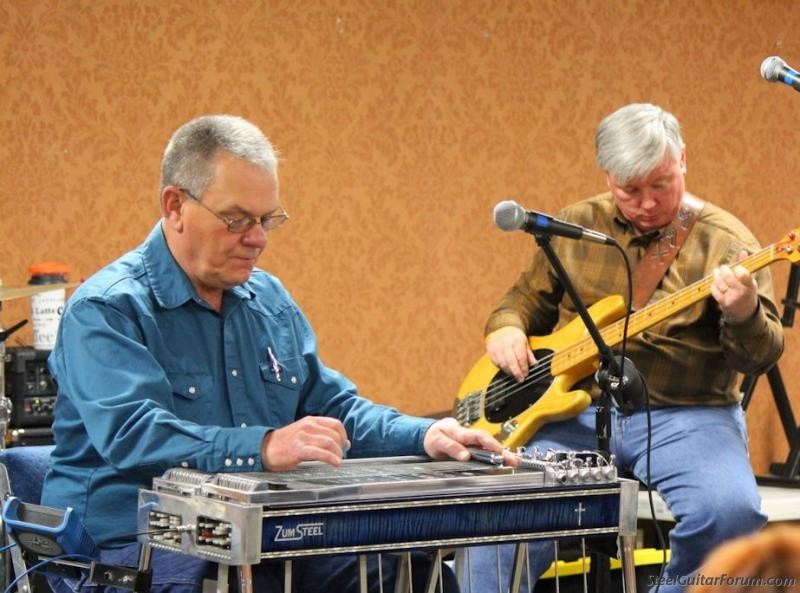 Lee Ogle from Baxter Springs, Ks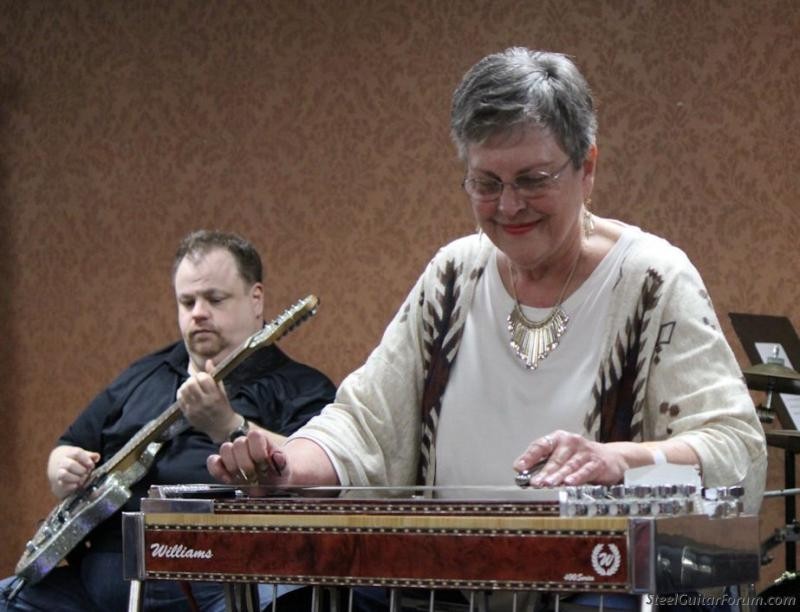 JoAnn Kreder from St. Charles, MO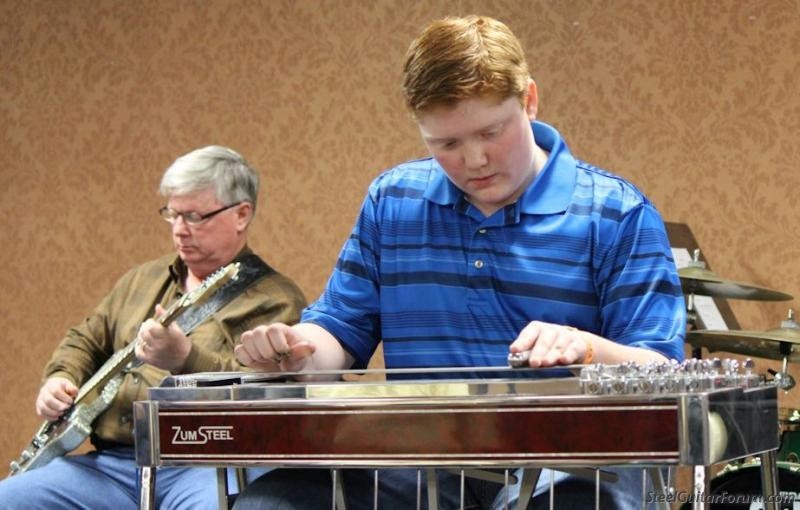 Jacob King, Dadeville, Mo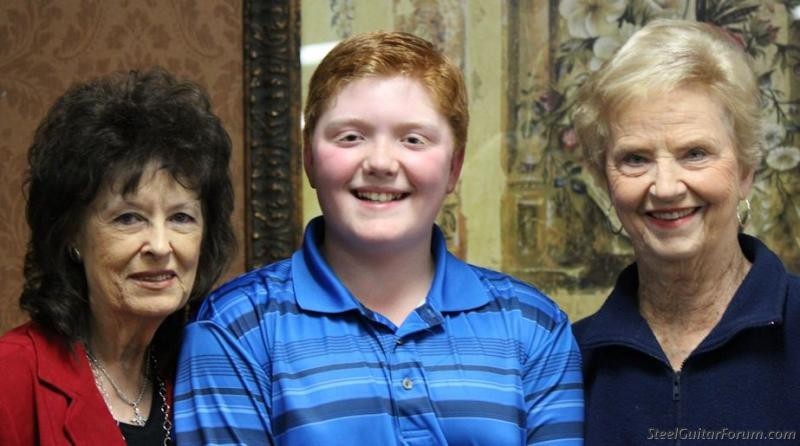 Twelve Years old and already a chick magnate, just ask Leona Williams and Rolene Brumley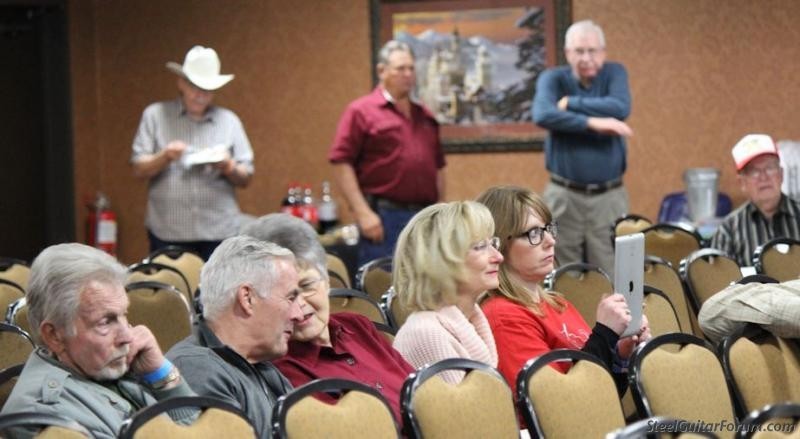 As Jacob's grandparents watch him play, Eddie Lane wonders how come he couldn't play that good at 12.
The Great Leona Williams entertained us.
We all enjoyed Leona's son Ron William's singing
Jacob's Dad, Jason King and Grandad, Max King played and sang on Mike McGee's set. Mike is Jacob's steel teacher.
Travis Scott sang on Mike's set too
Steve Sanford from Seminary, Ms.
Country Jack Harper from Northwest Ms. sang on Steve's set.
Ron Kyne from Falling Waters, West Virginia
Four-year old Ronnie Kyne was the most photographed player of the show. He didn't care that no sound came from his guitar, he just played.
Larry Gerderman from Hannibal, MO
Jerry Newberry from Prim, AR
Terry Wood from Marshfield, MO
Dino Strunk with his beautiful guitar played both Saturday & Sunday
Mike Jackson on drums did a great job on his first ever steel guitar show
Special thanks to Buddy Lewis for supplying the sound system and playing bass for us both days.
Mike McGee's seminar Saturday night was well attended.
Ronnie Kyne and Terry Bethel - from the beginner to the professional we enjoyed them all.
Sunday was another great day. Our next jam will be April 17 and don't forget our Super Show in July.
Jerry and Venda Hanley had a great worship service. Many folks staying at the hotel joined us.
Austin Stewart - Primm, AR
Preaching is hard work, time for cherry pie.
Jerry Smythe from Highlandville,MO
Dean Holman from Omaha, AR
Johnny Cox from Branson, MO with Dean Holman on Dobro
Austin and Brittany Stewart
Larry Garrett from Siloam Springa, AR
Marlyce Stockringer and Charlie join Larry
Sunday afternoon jam.
David White, Jerry Hanley, Dean Holman, Austin Stewart, Jerry Newberry, Larry Garrett, Jerry Smythe, Eddie Lane, Jack Musgrave, Mike McGee, Steve Melchi, JoAnn Kreder.

2016 Spring Fest Review

The weekend was off to a great start when players and several others joined together to get the Room set-up and ready for guests to enjoy all the camaraderie, food and great music provided by some off the best steel players in this 5 state area. First player to open the festivities was the remarkable Keith Hilton. Keith has such a smooth touch on the steel and is also the founder of Hilton Volume Pedals. Keith was followed by Steve Melchi, steel player for Jeannie Kendall. Buddy Lewis sang Ace In The Hole , Crying My E yes Out Over You & My Window Faces The South!..next up was Jack Musgave from Roger sville, AR and played
a fabulous set with a non-pedal steel. .Buddy Lewis sang Deep Water. Next was the ever lovable Eddie Lane..who played great as usual..Next was the fantastic Bob Tuttle who played for Ray Price in the late 1960's. Splendid player and everyone thoroughly enjoyed the set.. Larry Baker & Jean Devore were unable to make the show so the 1st standby player, Lee Ogle stepped in and did a splendid job, Thanks Lee! Mike McGee also played bass for Lee! Closing out the morning sessions was the only lady joining us for this show, JoAnn Kreder. Glad to see you again JoAnn....you did a wonderful job…:)

After a 45 Minute Lunch Break, the crowd gathered again to listen to more of the
marvelous music..First was a newcomer to our list of players, the young Jacob King...wonderful player....accompanying him on bass/vocals was Max King and lead/vocals was Mike McGee.,..we hope to see you back again real soon ! Next up was Terry's favorite player, Mike McGee. Mike was joined by the Awesome Ron Williams and Leona Williams for the first set.......and Max King..along with Travis Scott & Jason King on the next set , great job Mike. Another newcomer was Steve Sanford from Mississippi singing with Steve was Country Jack Harper. Fantastic player and look forward to seeing him here again. Yet another new player was Ron Kyne a fabulous picker..and Ron Kyne Jr(4) what a little doll :-) He stole the show! .... Ron was followed by Larry Gerdeman .with Johnny Cox on bass. Then Jerry Newberry played a beautiful set with Austin on bass, followed by , Austin Stewart and as always they were both crowd pleasers...closing out the first day was the super smooth playing of Terry Wood. After a break Mike McGee hosted a great seminar which was attended by several players.
Sunday started off with a beautiful Church Service from 9:15-10:00 AM hosted by Jeremiah & Venda Hanley First to the stage was Jerry Smythe who did a fabulous set! Next up was the super Dean Holman, who also played the Dobro. Dino sang a couple songs on his set. Dean is doing a fabulous job over at the Presley's theater. Dean was followed by Austin Stewart who filled in for Terry Bethel who wasn't feeling well..Fantastic picker and a splendid young man! Next was the incomparable Johnny Cox...with Dean Holman on Dobro. And Country Jack Harper sang Don't You Ever Get Tired Of Hurting Me?....good to have Johnny on the show. He currently plays for the Baldknobber's show..rounding out the morning session was Larry Garrett. Great job Larry!
After the last player everyone(12 players David Dean White, Jeremiah Hanley, Dean Holman, Austin Stewart, Jerry Newberry, Larry Garrett, Jerry Smythe, Eddie Lane, Jack Musgrave, Mike Mc Gee, Steve Melchi, JoAnn, Kreder and the band, Dino Strunk on Lead, Mike Jackson on drums, Buddy Lewis on Bass & Eddie Asher sang while young Jacob King watched..
look out guys!) set up for a jam session and spent the afternoon enjoying the time playing together at the Jam session ...
Thanks to all the players and the band who joined us for a great weekend. Thank you to Terry and Charlie for all their great work. Thanks to all the ladies who provided us with all the yummy snacks. A big thank you to the Stone Castle Hotel for working with us to provide a beautiful place for our shows and jam sessions.
If I forgot anyone or misspelled a name please forgive me!
And most of all thanks to all the guest for making this a successful Spring Fest...hope to see everyone for the April & June Jam sessions. And looking forward to seeing everyone at the July Super Event.....July 29th-31st 2016

Martha J Randall (Behind The Scene Promotions
Terry Bethel (OzSGA President)