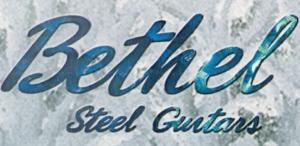 The OzSGA House Band for 2015
It doesn't get any better than this..

Click on photos to view larger!
Copied from OzarkSteelGuitarAssociation.com

JULY SUPER EVENT
2015

In just a few weeks the SUPER EVENT in July will be here. I know that many of you have been anxiously waiting for this yearly show! The dates are July 24, 25, and 26, Friday, Saturday, and Sunday! We're still in the same place where last year's event was held, the lovely Stone Castle Hotel at 3050 Green Mountain Drive, Branson, MO.

Branson Tourism is handling all the hotel reservations. To reserve your room, call this number, 1-800-268-4014, Monday thru Friday, 9 a.m. to 5 p.m. CST and ask for Vickie. She is the one taking care of the Ozark Steel Guitar Show reservations. They have given us a great price, only $73 a night, and that is the total price, no taxes or fees are added. It's important to book your room early!

The admission for the show is only $25 for all day! That's almost unbelievable, isn't it? If you come on Friday and plan to stay for Saturday, your admission would only be $40 for two days. Wow! That's $20 a day!! What a deal!! (Members of the Ozark Steel Guitar Association get in at a reduced price, $20 a day or $30 for the 2 days) And the player's list is being made at this moment and you're going to hear many, many great steel guitar players. The players are always thrilled with the top-notch professional band that we always have at the Branson Shows!

Plan to be with us for this extra special weekend of Steel Guitar Music!!!

The staff of the Ozark Steel Guitar Association

We hope you're going to be among those coming for a super weekend of FUN, FOOD, and FELLOWSHIP, and most of all the sounds of the fascinating STEEL GUITAR!!!!!

The Branson Stone Castle Hotel & Conference Center™
on Green Mountain Drive is the location! The address is 3050 Green Mountain Drive. It's less than a mile from Highway 76. Turn south on Green Mountain Drive, (that's the street that is between WalMart and McDonalds) and follow that to the Hotel. We hope you will be there to enjoy a weekend of STEEL GUITAR MUSIC!!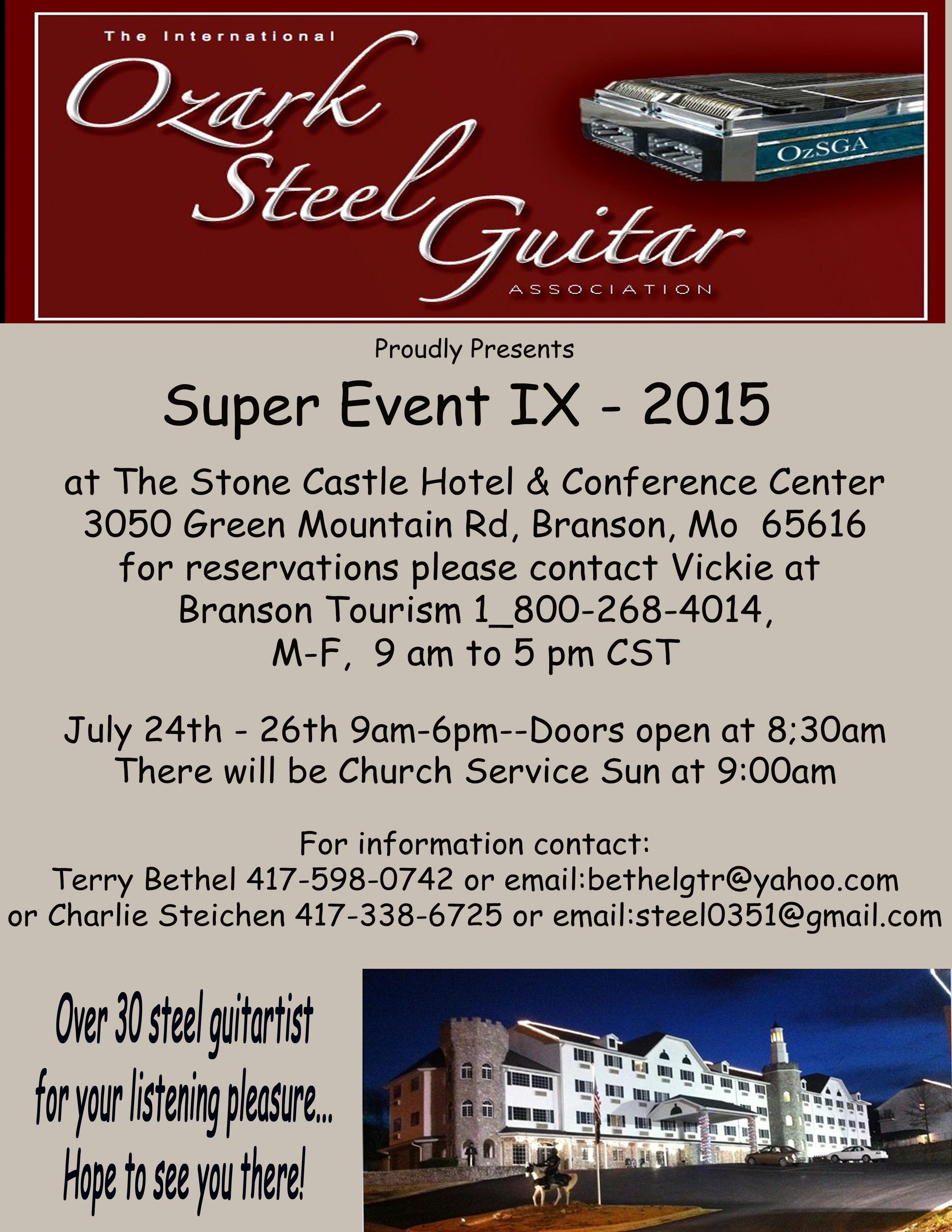 Review of Super Event #9-July 24-26, 2015
Well folks the Super Event was a great success!. All the players played their hearts out this years as usual….Thanks to everyone who played steel, the staff band, all the workers and vendors and guest artists…you all are important to the success of the show. Thanks to all those who came to hear the music for without you we wouldn't have a show!…Larry Garrett got us off to a marvelous start this year, followed by the always lovely Janet Wise a favorite Houston, TX performer, then Clovis Richards an Oklahoma favorite, Hayden Bramlett played fiddle for Larry Garrett & Clovis Richards as well as Patsy Cox sang on Clovis' set, next the lovely Linda Wright & her husband Richard on trumpet, followed by the terrific Ron & Opal Erickson, and Jerry & Donna Newberry who are favorites of the events…the morning was ended by Rick Crow and Wayne Morton who pleased the crowd as always with their twin steels..
After Lunch our illustrious President Terry Bethel started off the afternoon with a wonderful set and was joined by Richard Wright on trumpet,….He was followed by the great Johnny and Joan Cox. Johnny is now playing for Mel Tillis as well as the Baldknobbers and Joan is a sought after performer in TX. We hope you can both join us again next year. Next up was Wayne Link and his daughter Wanda Wall from Canada whom we also hope will join us again Then the incomparable Joe Wright who is always loved at the OzSGA Super Events. He is not only an awesome player, but sings great and amuses us all with his comedy. We hope Joe will be a mainstay for many years to come…next up was Bob Tuttle, and Louie Halford both are fabulous players...The day finished with Russ Weaver who relinquished his band duties as bass player to show us he was as at home on the Steel as he is on bass….The night closed with a great Beginner/ Intermediate Seminar hosted by Steve Palousek and Terry Bethel..Very informative evening even though I can't play….:)
Saturday's starter was the fabulous JoAnn Kreder, Welcome to our family JoAnn and hope you'll come back! I understand that JoAnn & Joan Cox played together as kids while their fathers played steel together. While at the jam they discovered they were the 2 girls playing together and had both taken up steel guitar They had not seen each other since they were "those" kids and now both play steel guitar and both are exceptional players!
Next up was Ted Emmons who was joined by his wife Lisa to sing for the crowd They were also joined by Jeremiah Hanley who assisted in a skit. Please come back Ted & Lisa…..After a beautiful set by Jerry & Carlene Roller, Robbie Springfield graced the stage and was joined by his friend & boss Billy Dean
(Robbie plays steel for Billy Dean over at the beautiful Starlight Theater in Branson You should go see the show if you get the chance…I loved it) and Gary Ash a fabulous singer who said if he had known he had to follow Billy Dean he would have said no….Ha....Next was the always loveable Eddie Lane then Dean Holman who also played Dobro for us, Dean is a regular with the Presleys' playing Steel, Dobro and whatever else he can... The morning ended with Keith Hilton joined by two of his local band members playing along…Keith is the man behind Hilton Volume Pedal used by many of our players..Frank Warmbrodt sang on several different sets..
After a short lunch break, the afternoon was started by two greats, Mike Beasley, then the well loved favorite Joe Wright. Next up was Gene & Gayla Crane who are always favorites of the OzSGA crowds., then Steve & Donna Palousek, Steve is one of Terry Bethel's all-time favorite players and Miss Donna sings like a bird!, Then Janet Wise joined us again for another beautiful set followed by another splendid player, Larry Baker & the beautiful voice of his wife, Jean Devore(Jean often sings with other players as well). Next up was the fantastic Mike McGee(another of Terry's all-time favorite players), this time Mike was accompanied on vocals by not only Max King but also Joe Wright . Then Terry Wood was joined by his boss the marvelous Walenia. Closing out the day was Steve Melchi(who plays steel for Jeanie Kendall). Steve was also the host for the annual Sat night Jam Session which was a great success. This year saw 10 pickers joining in to provide a great night of musical pleasure for those of us in the crowd.
Sunday morning was started off with a wonderful church service by Jeremiah and Venda Hanley. With Jeremiah's wide vocal range and the sweet melodic tones of Ms Venda, along with Jeremiah on steel & Venda on piano the crowd was well off to a great Sunday start. The Hanley's have been holding Sunday Services for the Events for many years and we hope they will continue the tradition for many more!
The first performer of the day was Jerry Smythe accompanied by David Bennett on piano and Mike McGee on bass…
Again Steve and Donna Palouse pleased us with there talents followed by Keith Hilton and his local band members. Then Michael Todd Hermsmeyer and Stephanie Hall pleased the audience immensely, Michael Todd plays for Mickey Gilley…after Mike, Terry Bethel took the stage again and had some assistance from Jimmy and Starla Queen Jimmy played drums for the ISGC for years and Miss Starla can sing a rousing Western Swing song with the best of them hope they'll join us again…next was Terry's hero, Mike McGee again and the amazing Joe Wright closed out the show with an awesome set…Thanks to everyone for playing and singing your hearts out. Sorry if I missed any singers or players who made guest appearances on the show…..Looking forward to an even bigger show in 2016…..Keep on Steelin'…:)……….

Martha Jane Randall (Behind The Scene Promotions) &
Terry Bethel (President of OzSGA)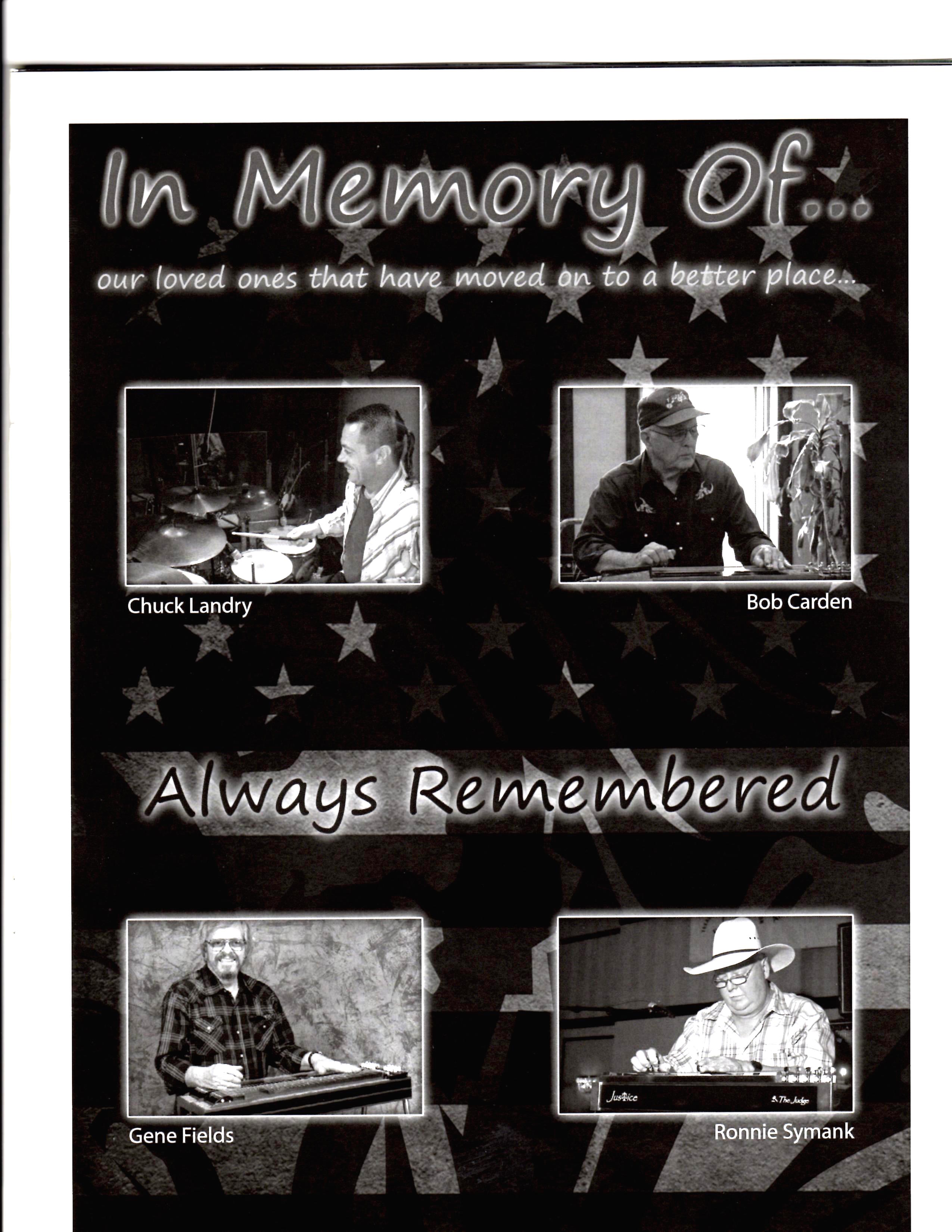 Rosemary and I want to thank all of the players, singers and everyone who came to listen to the show. We consider all of you our family and do appreciate you very much. I want to thank esp. Mike Squires for helping to make things run smooth , Johnny and Pat Zazuliak for the wonderful program book, Venda and Jerry for taking care of the admissions, Terry for getting such great players and to the band for working so hard all three days. Charlie


Friday Pix

Hayden Bramlett played fiddle on Larry and Clovis's sets
Frank Warmbrodt sang on several sets
Mark Pearman, Dean Holman, & Johnny Cox
Doug Earnest visits with GFI
Friday's Crowd

Saturday Pix

We had a bunch of fun this weekend, But we sure missed Buck & Mitzi Grantham, Jerry & Dee Foster, and Bill & Eva Myrick. Bill, I know the pictures are not of your quality and I probably missed a few. Hope all of you are feeling better.....Charlie & Rosemary

JoAnn Kreder started
the morning off
and then....
Ted Emmons took the stage. His wife Lisa and Jerry Hanley took it away from him.
Billy Dean sang and played guitar
on Robbie's set.
Eddie's wife and daughter came to support him
Keith, sorry I missed getting your picture Saturday (we were eating lunch) however I did find this one from last month.
Gayla Earlene Crain sang on Gene's set
Not sure if this is support or heckling for Steve Palousek from Dean Holman,
Johnny & Joan Cox
Lois Yocum, Venda, and Carlene Roller
Saturday night jam had a total of 11 steel players.....
Sunday Pix

Sunday was a great day. It started off with an awesome church service by the Hanleys and continued with great picking and singing all day.

77 people enjoyed the Hanley's message
Jerry played the steel, sang his heart out, and gave a very good message
Jerry and Venda Hanley, the heart beat of OzSGA
Jerry Smythe started the show off
Mike McGee on Bass and David Bennett on the piano supported Jerry
Ernie Jackson sings on
Keith's set
Mike Hermsmeyer and Stephanie Hall prepare to go on stage.
The Sunday Band & other pix

Joe Wright and Max King on Mike McGee's Set
Why is Russ Burns so sad?
Is it be because their hair is to short to be styled like Buddy Lewis's
Jack Musgrave, Russ Wever, and Jimmy Queen
Mike Squires moved most everyone's steel & equipment.
Janet Wise Barbara Rosetta with Jerry & Donna Newberry
Thanks to everyone and hope to see you next year. Charlie Steichen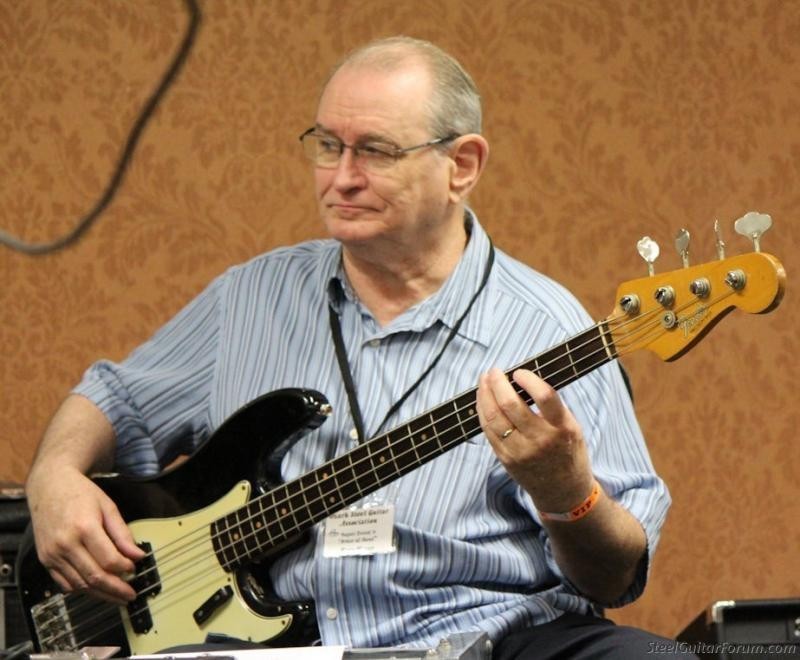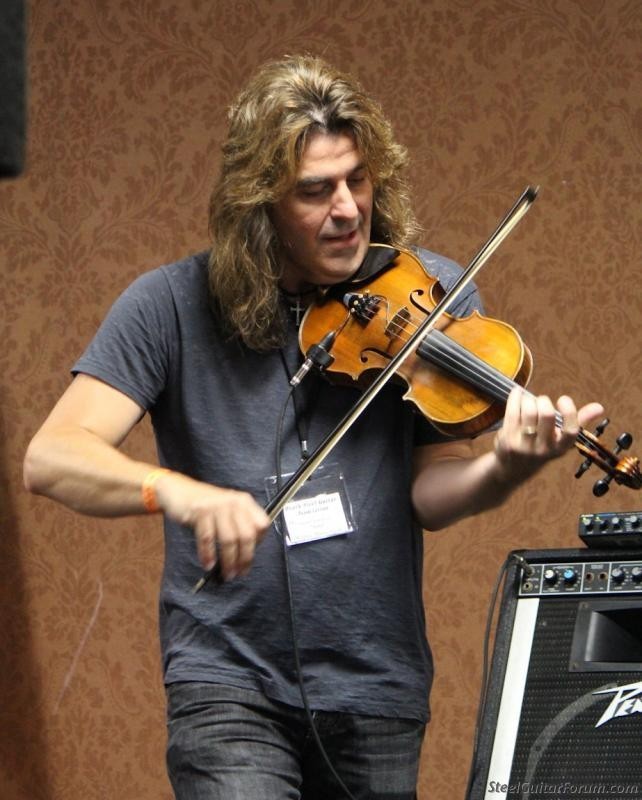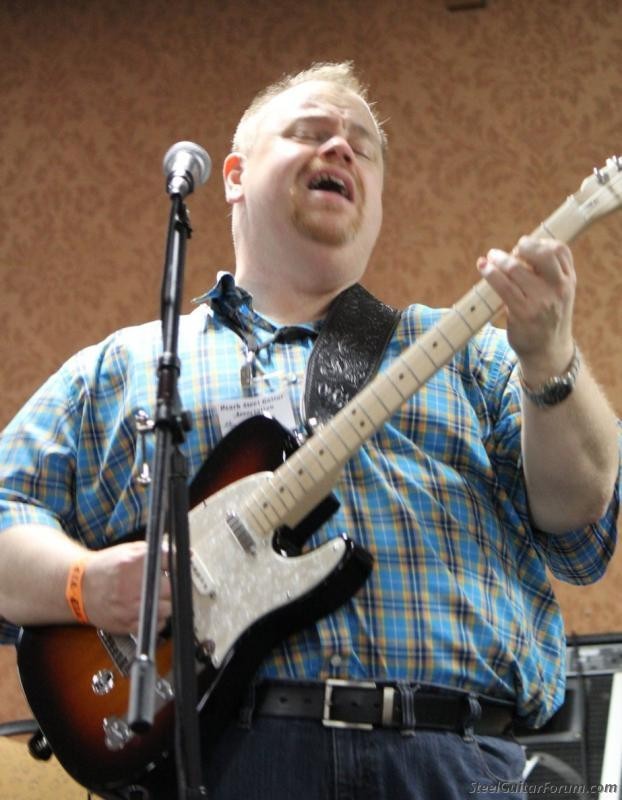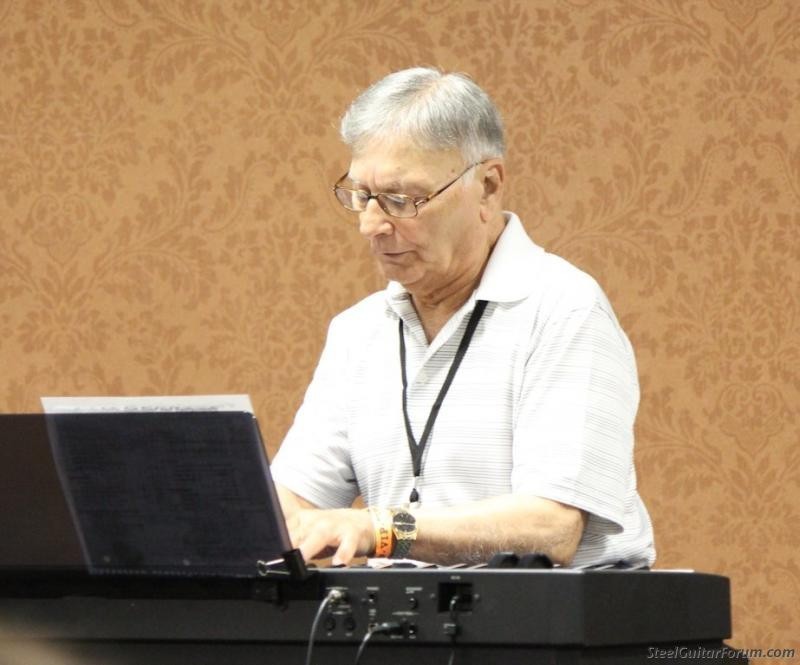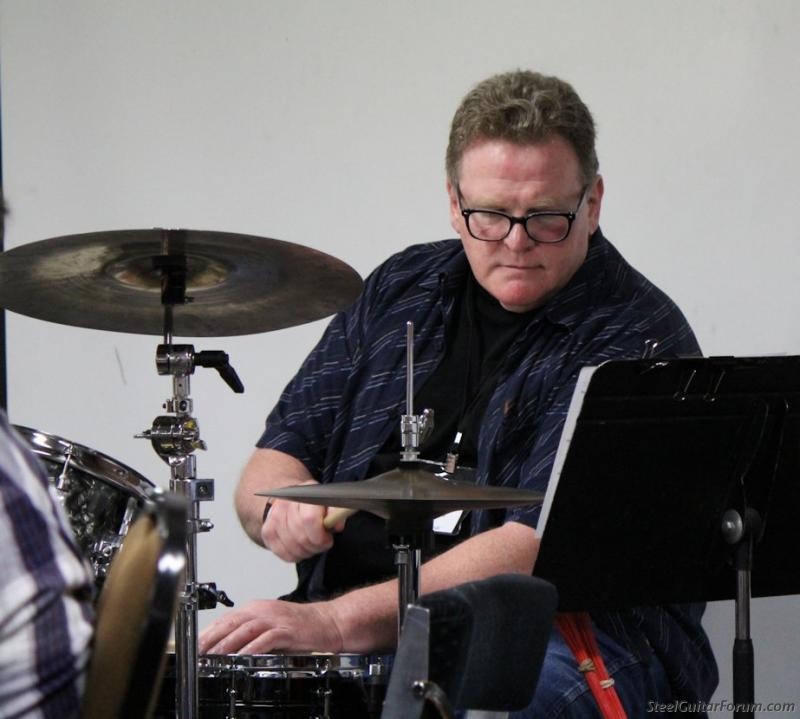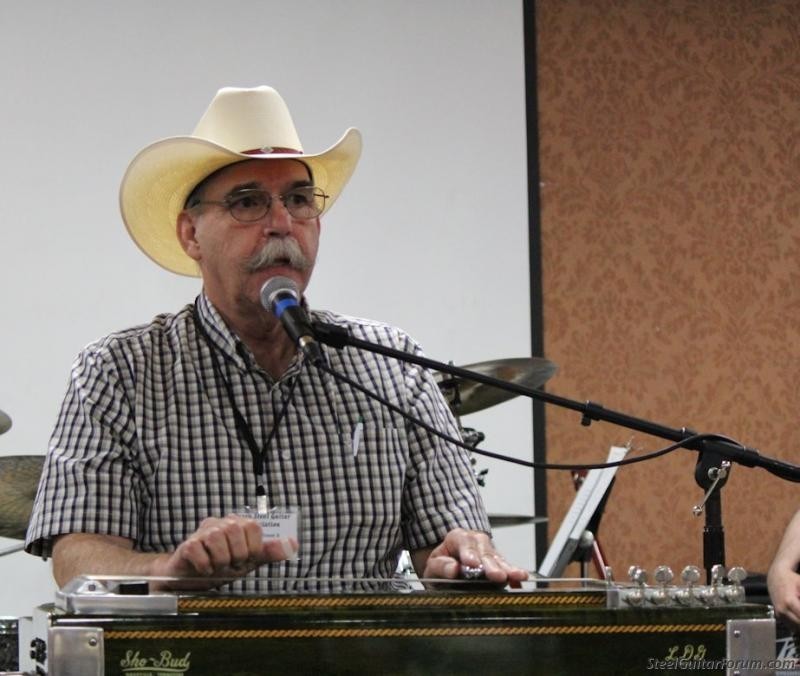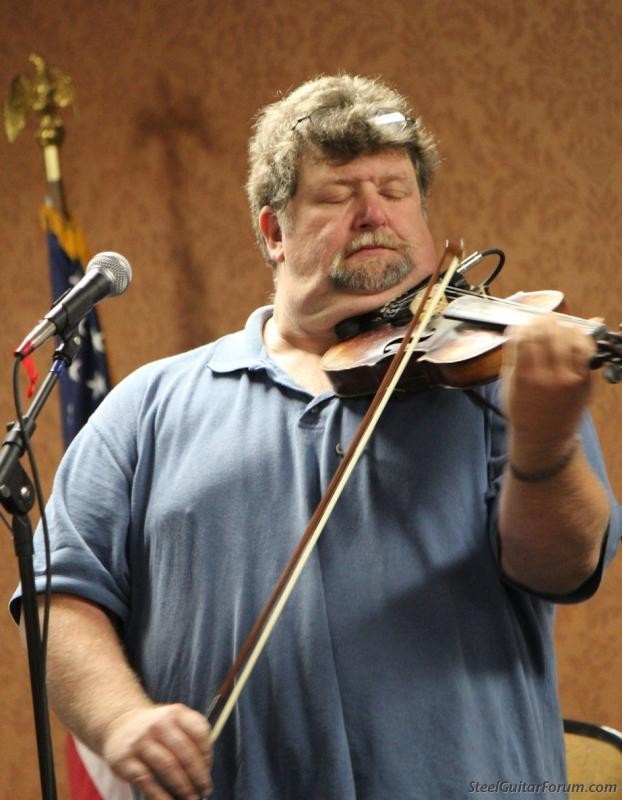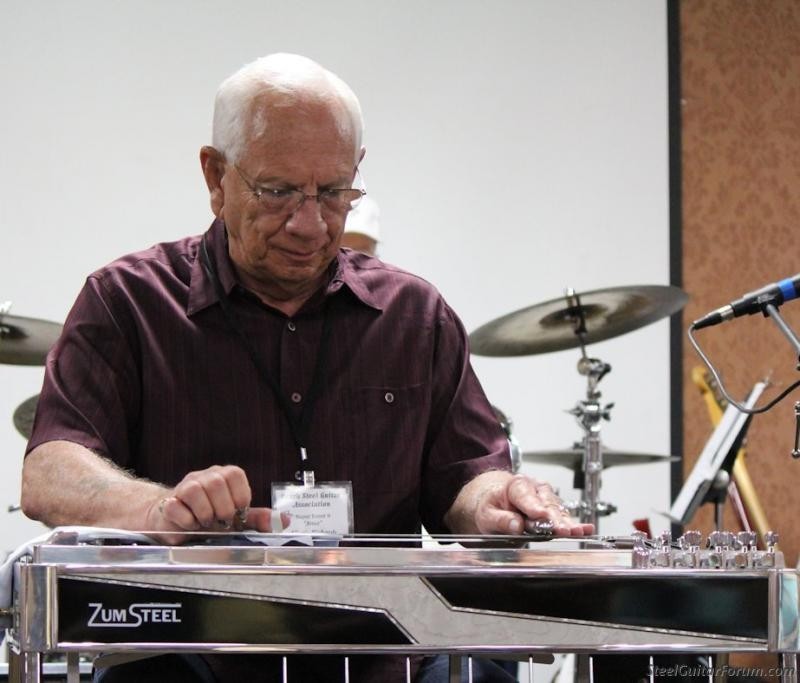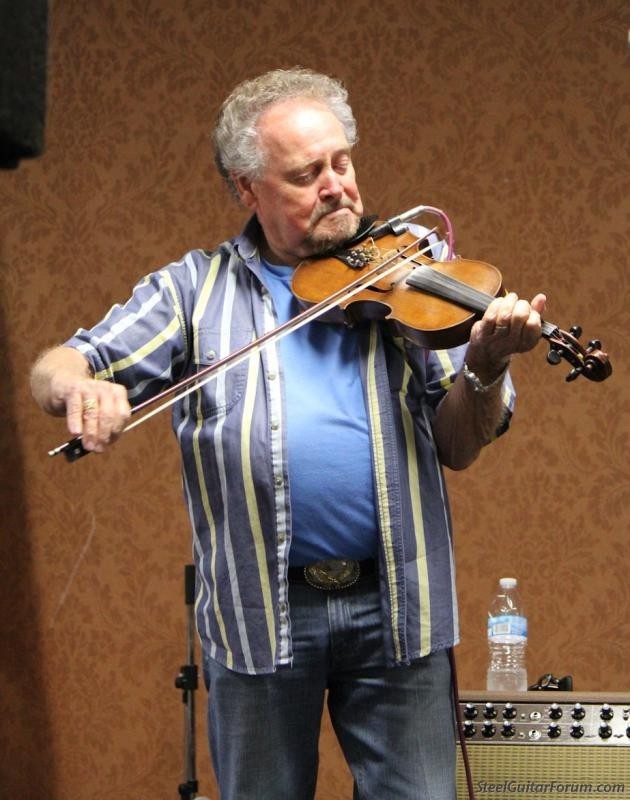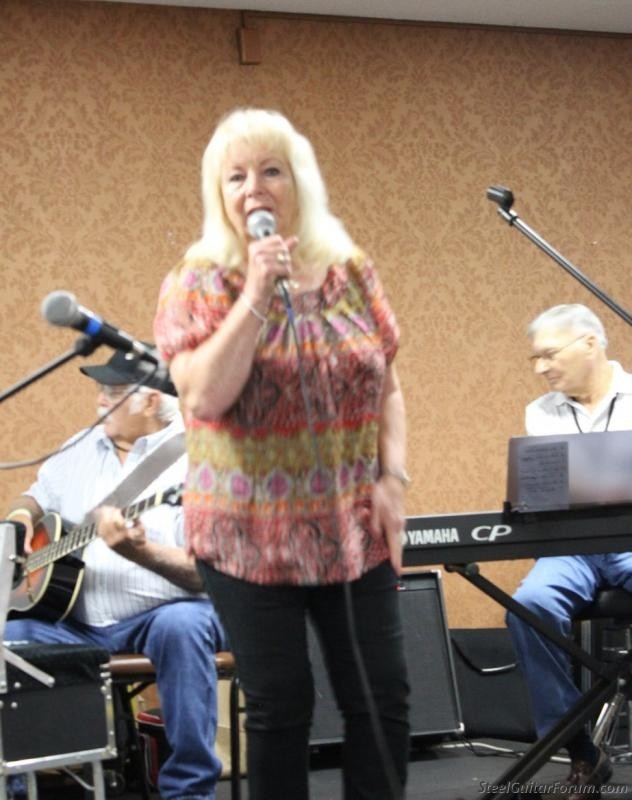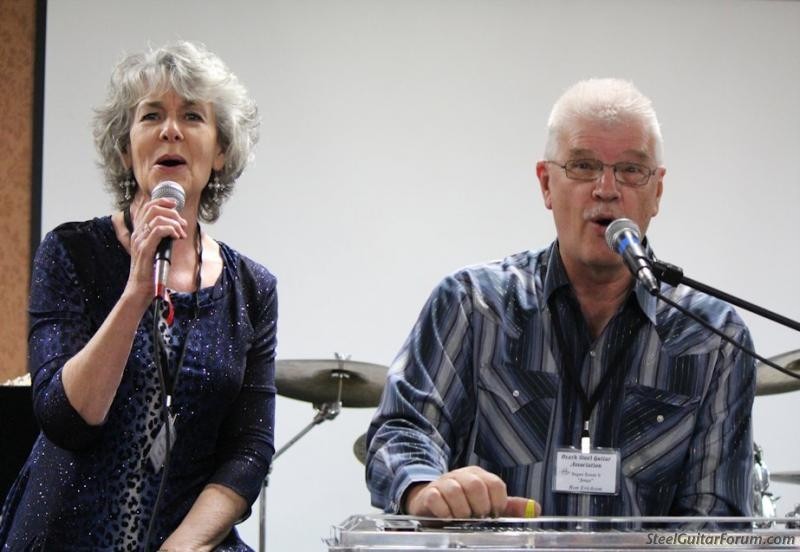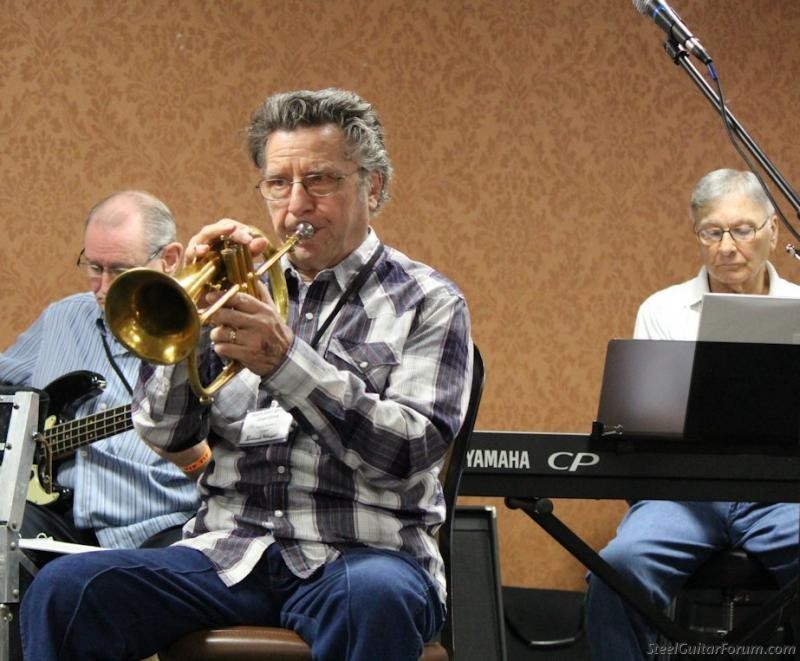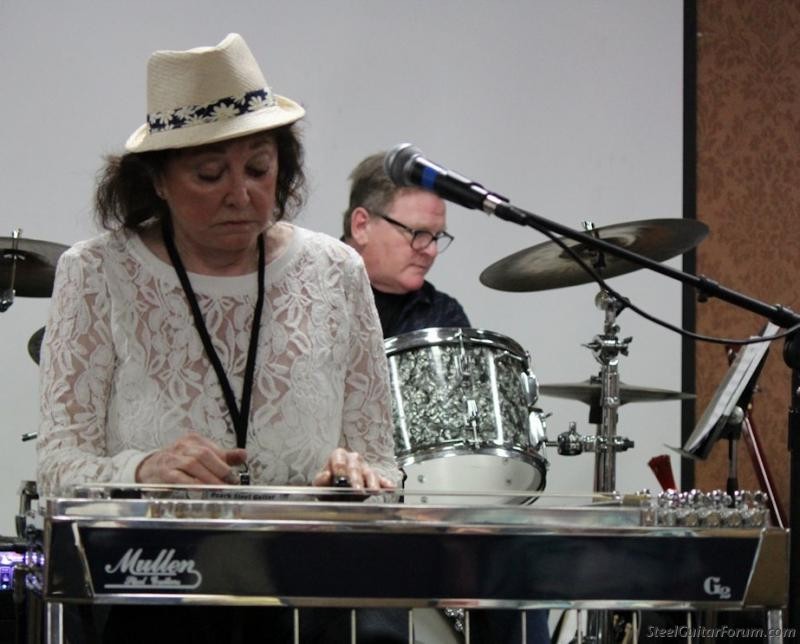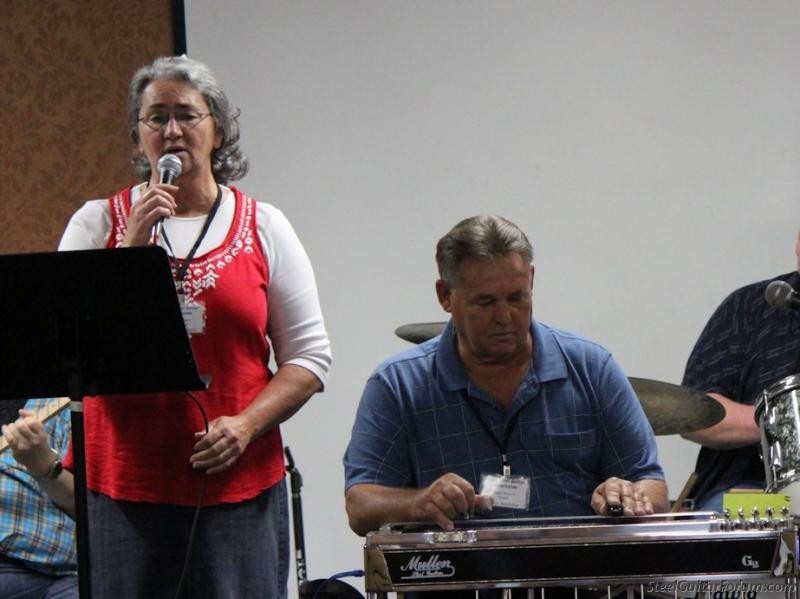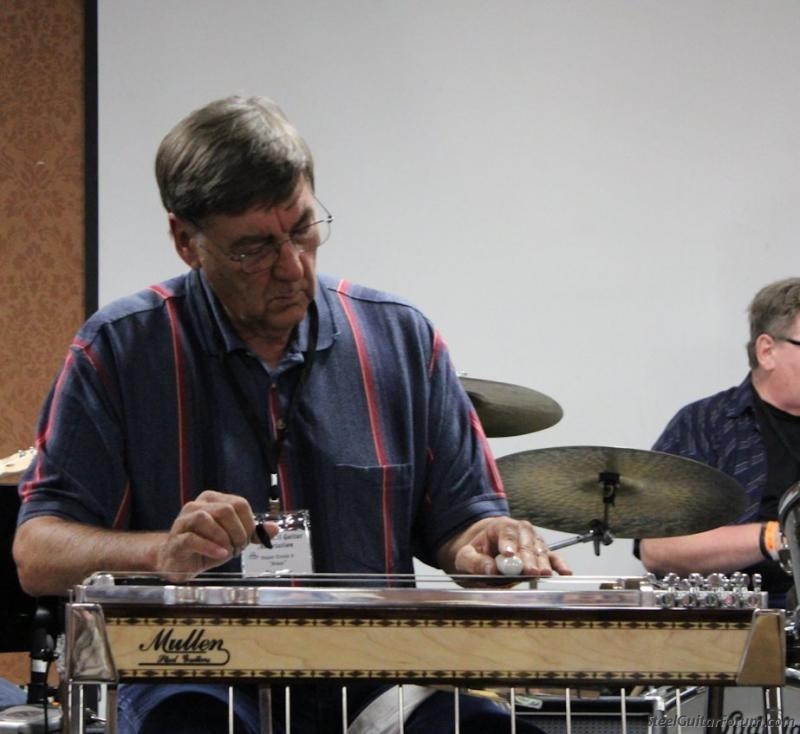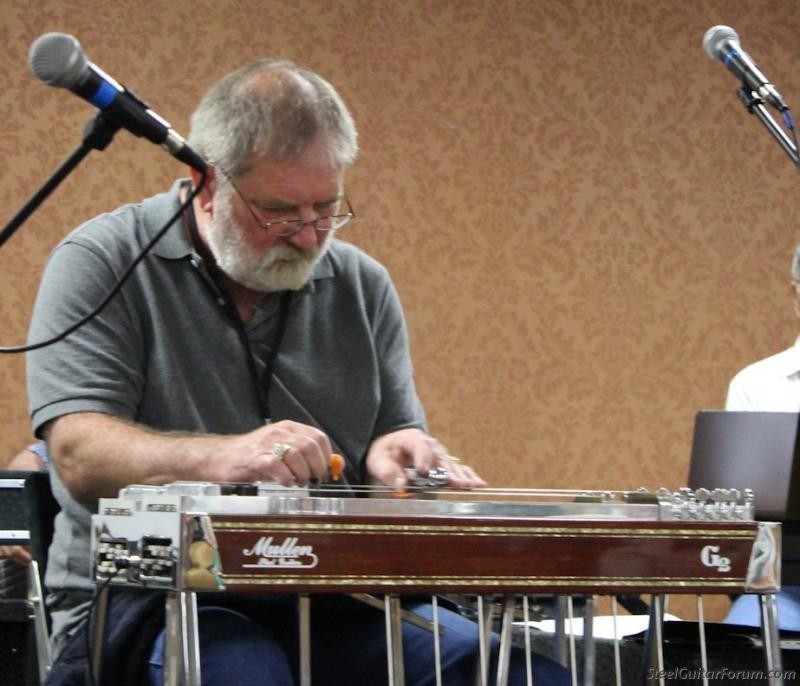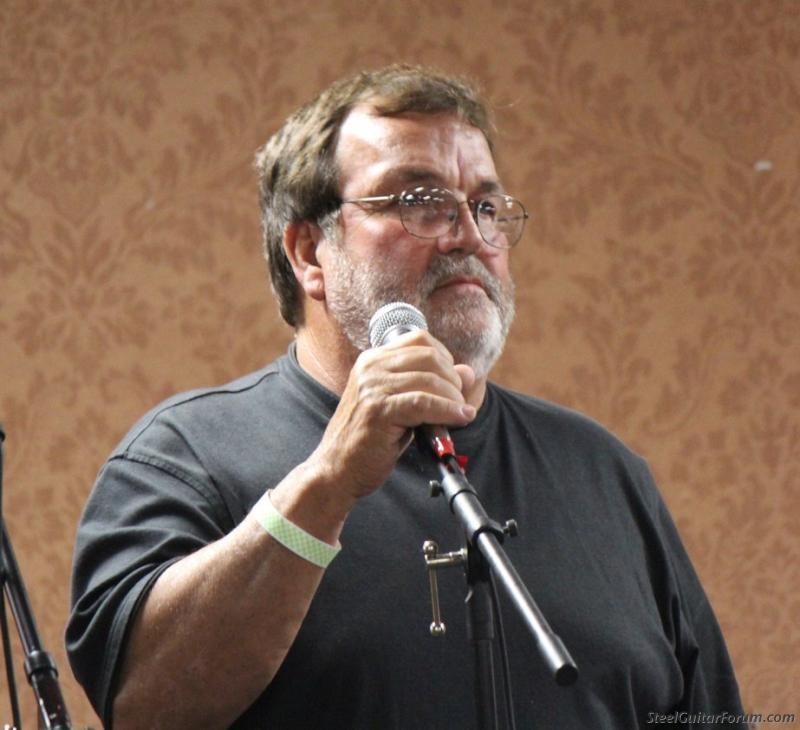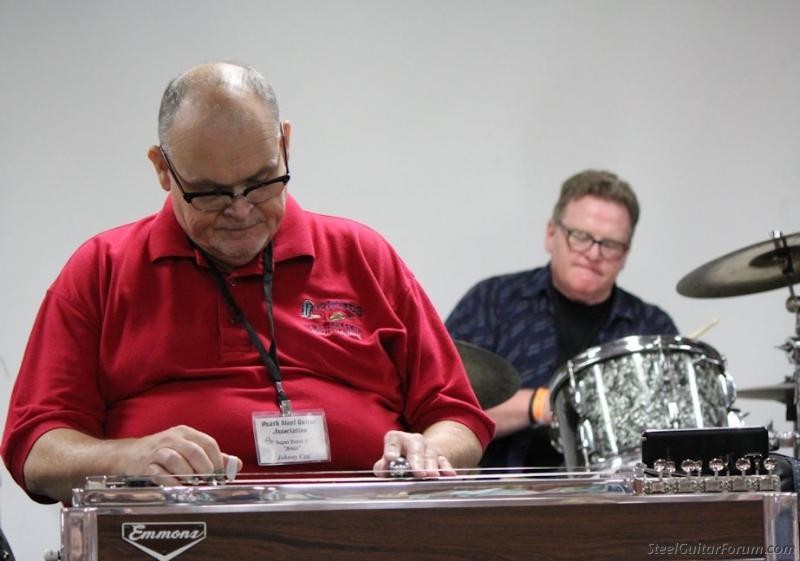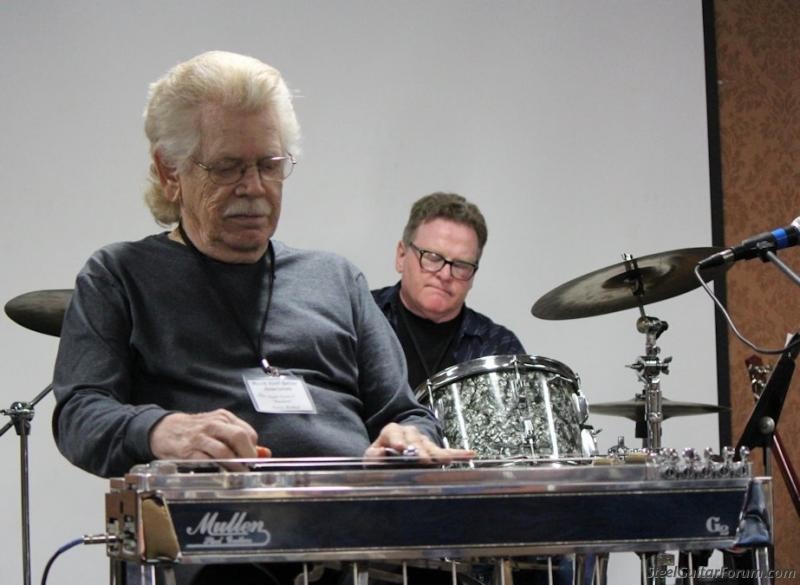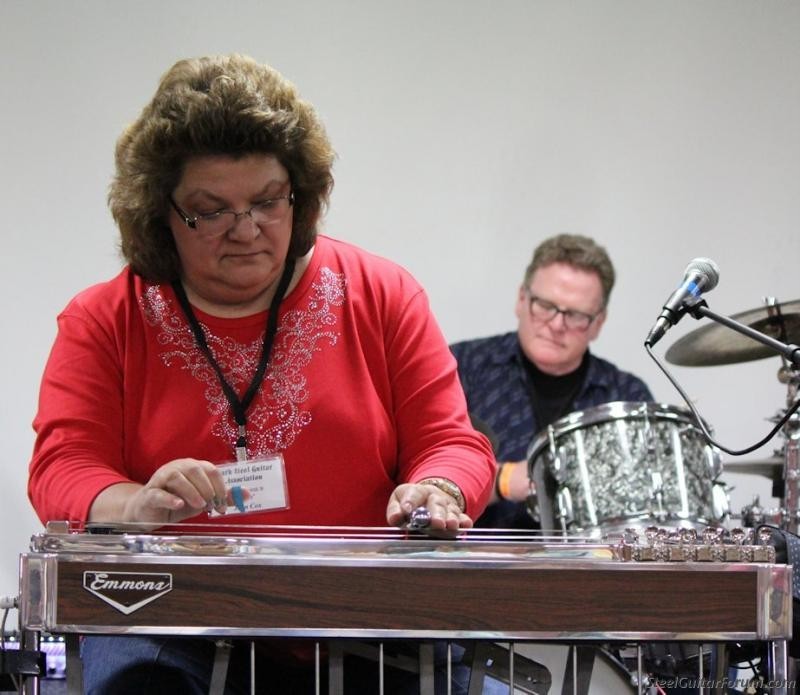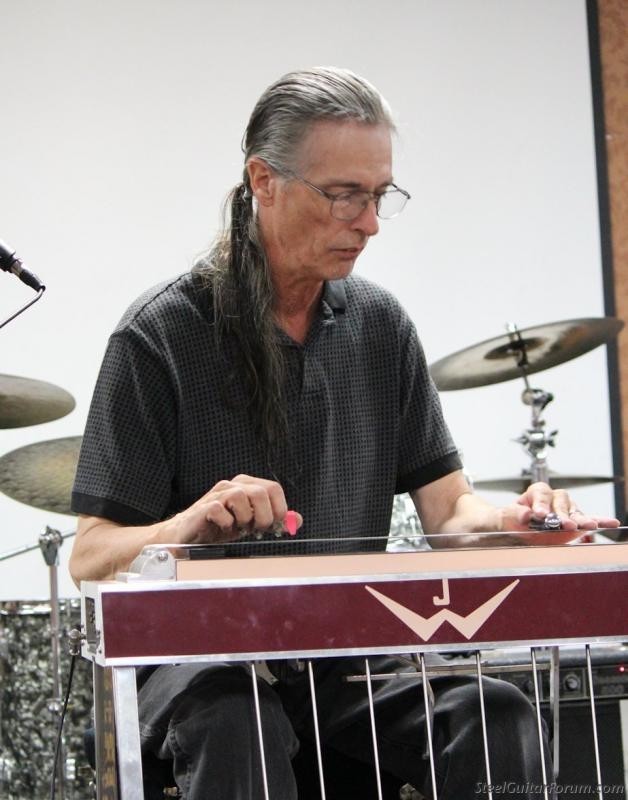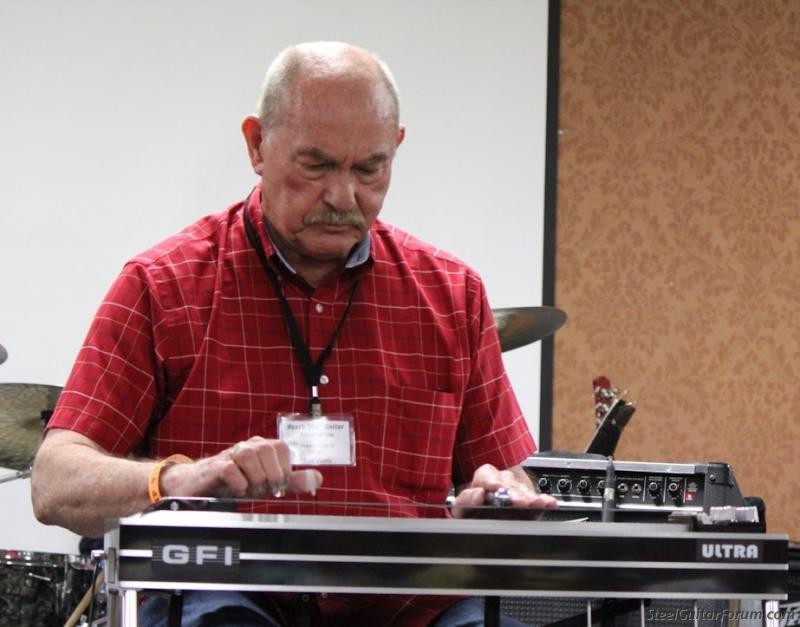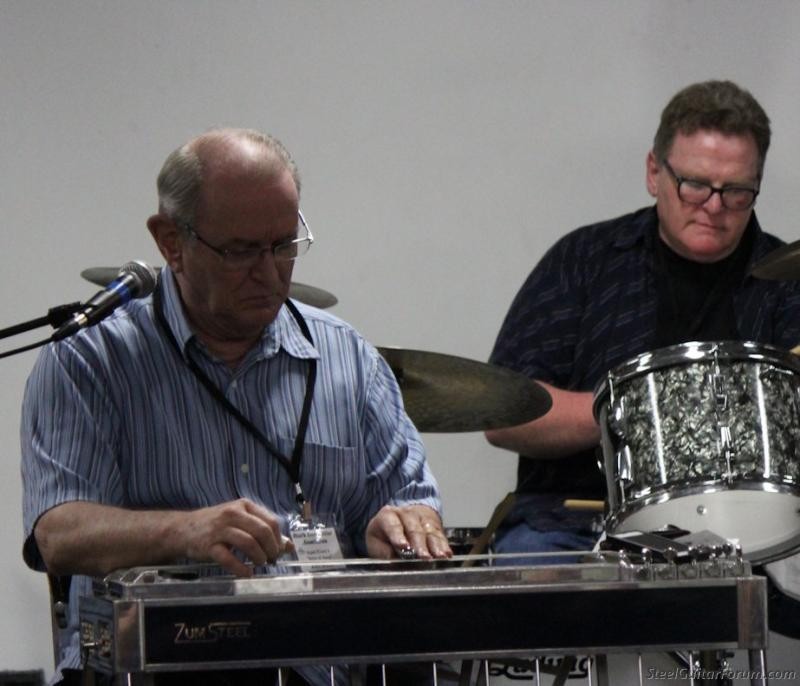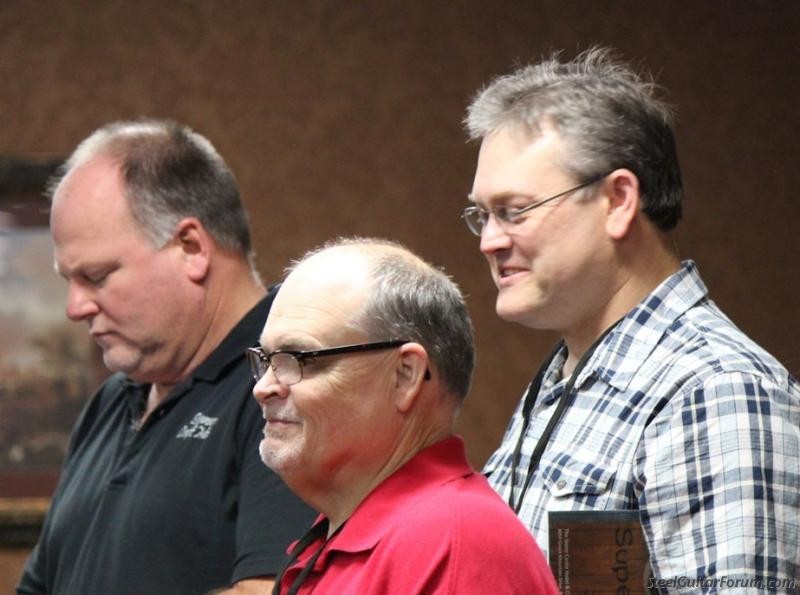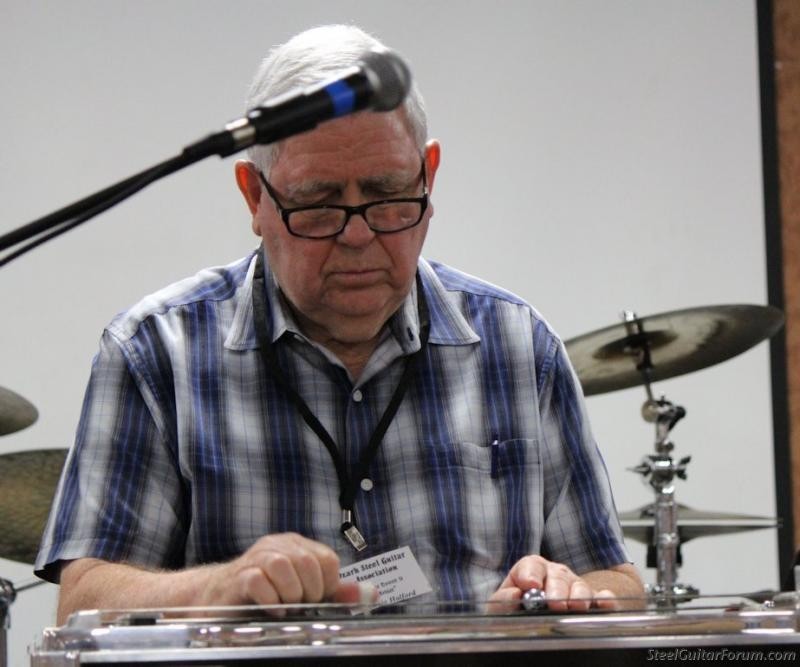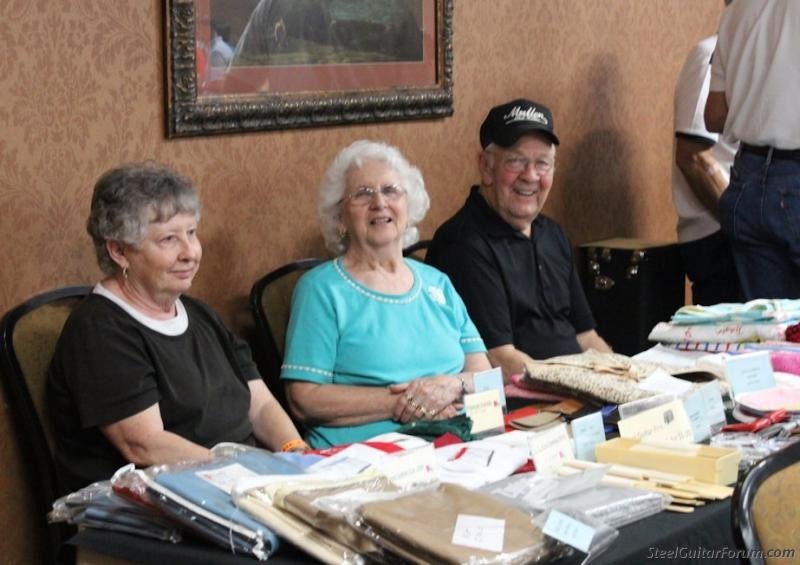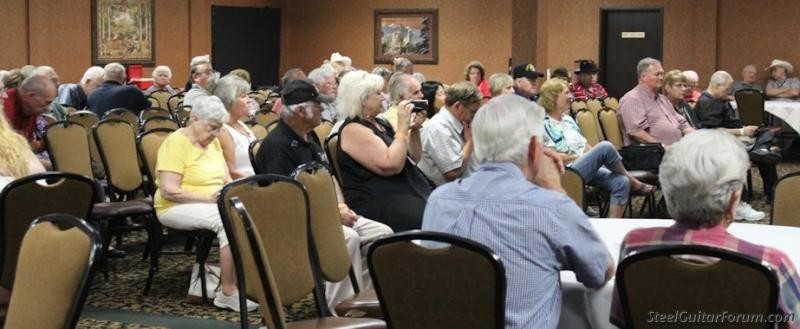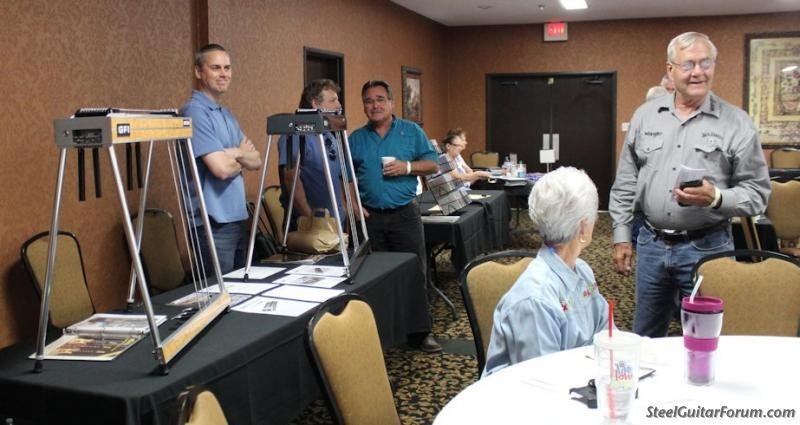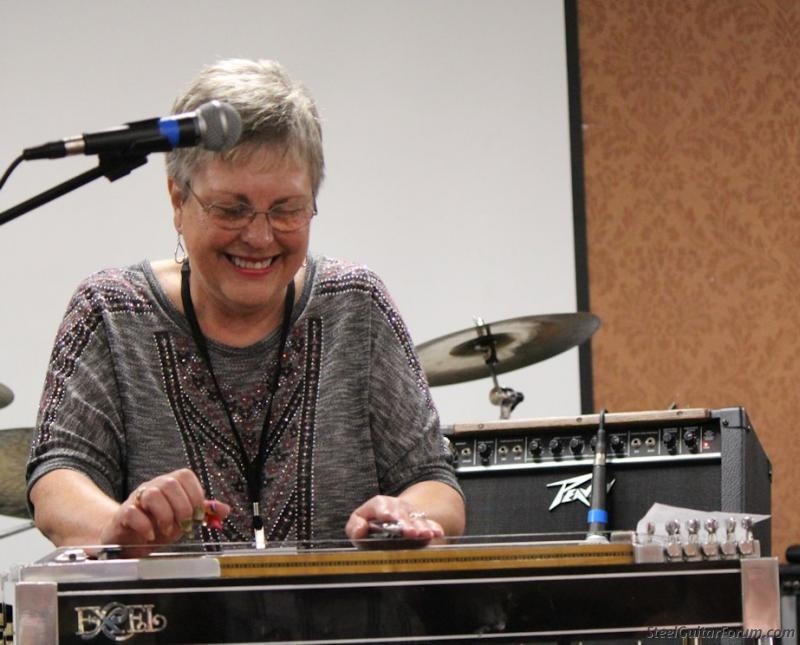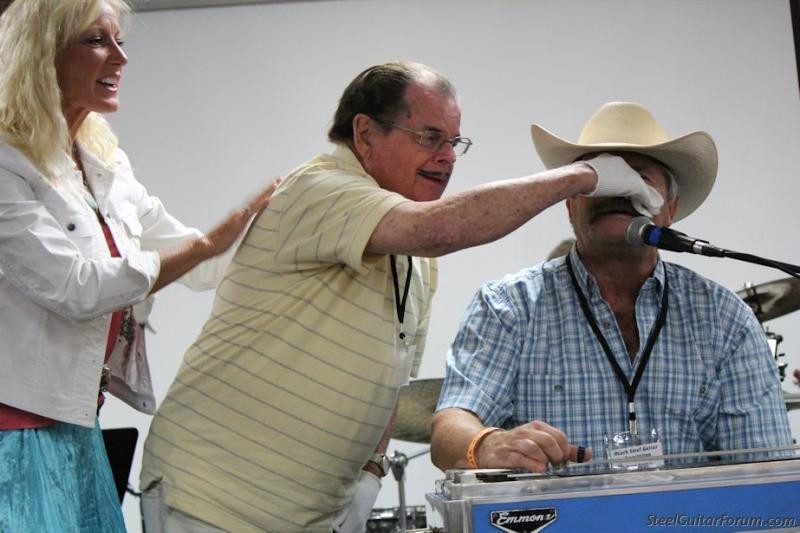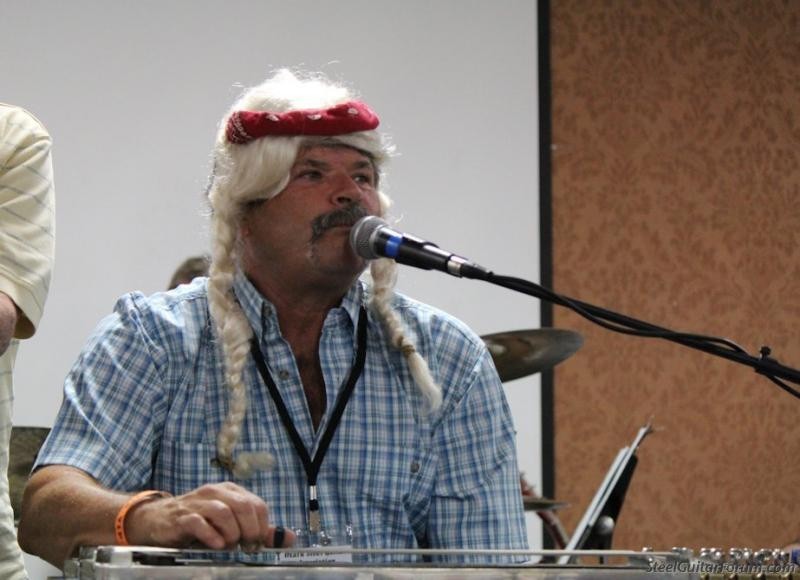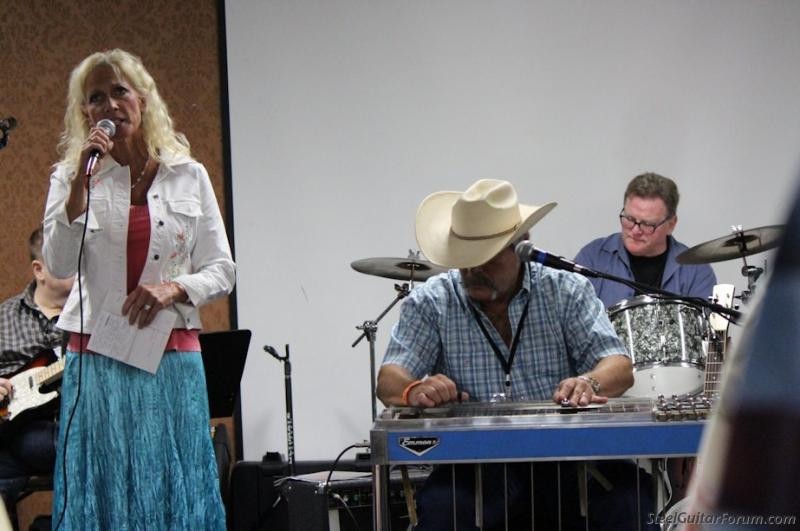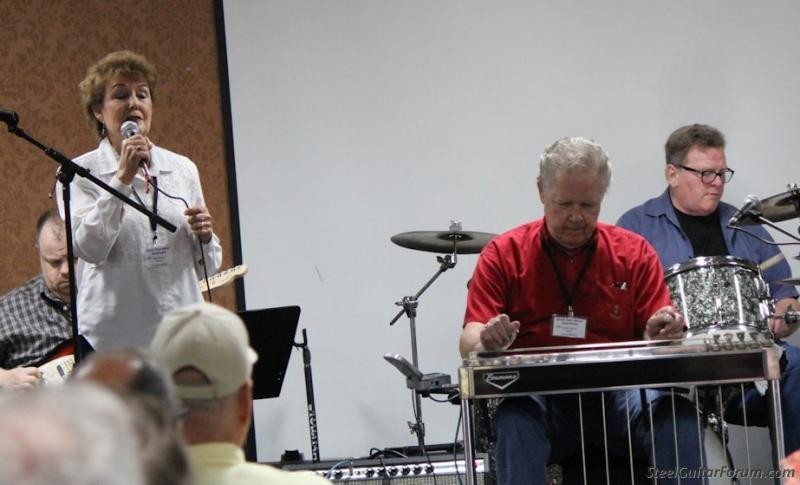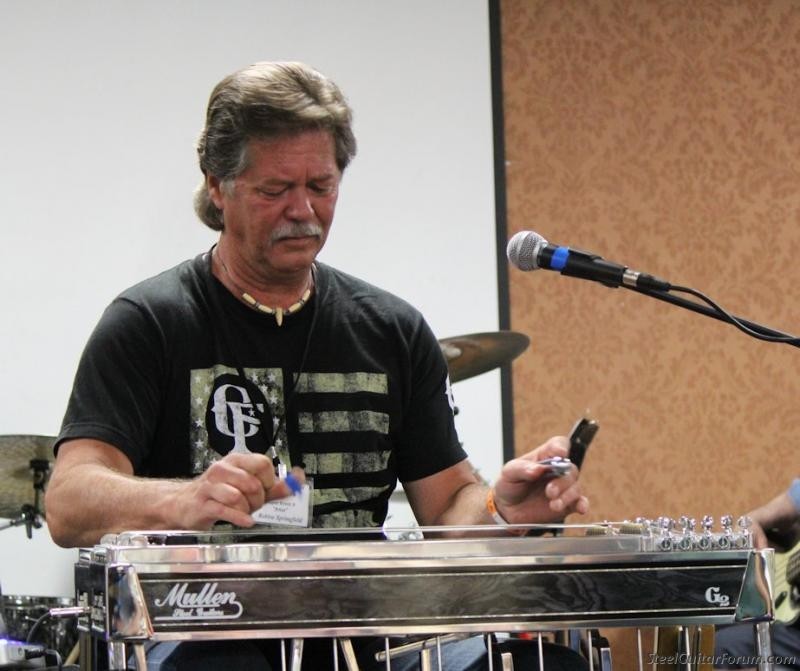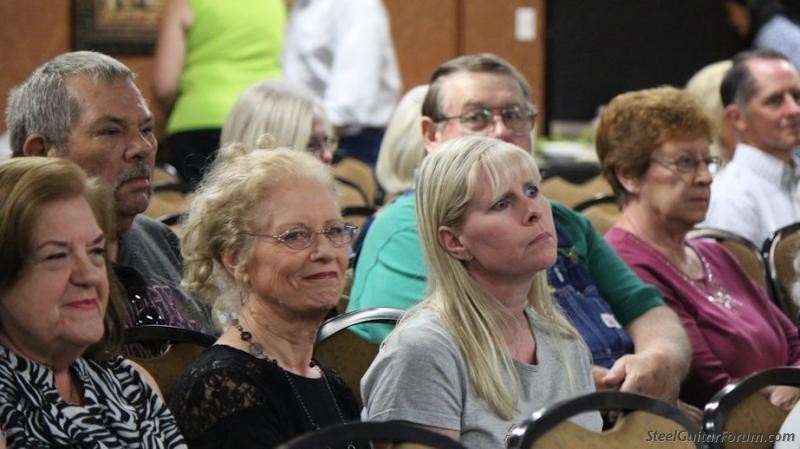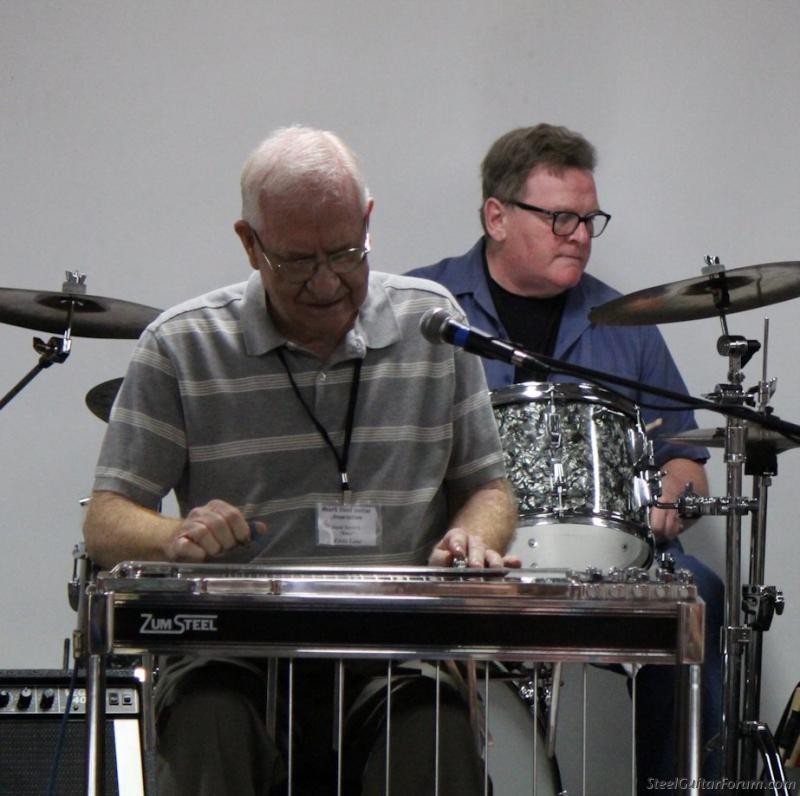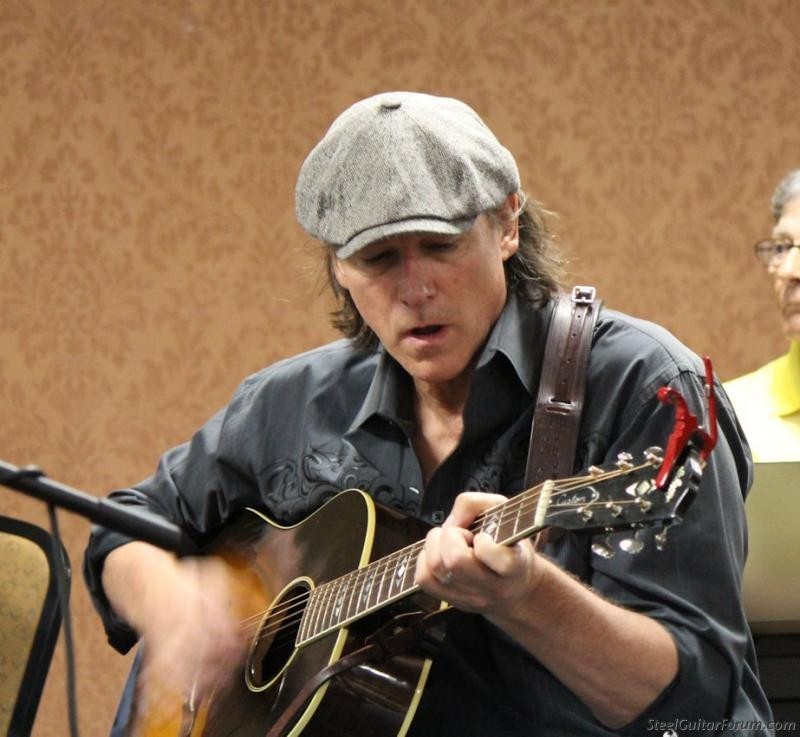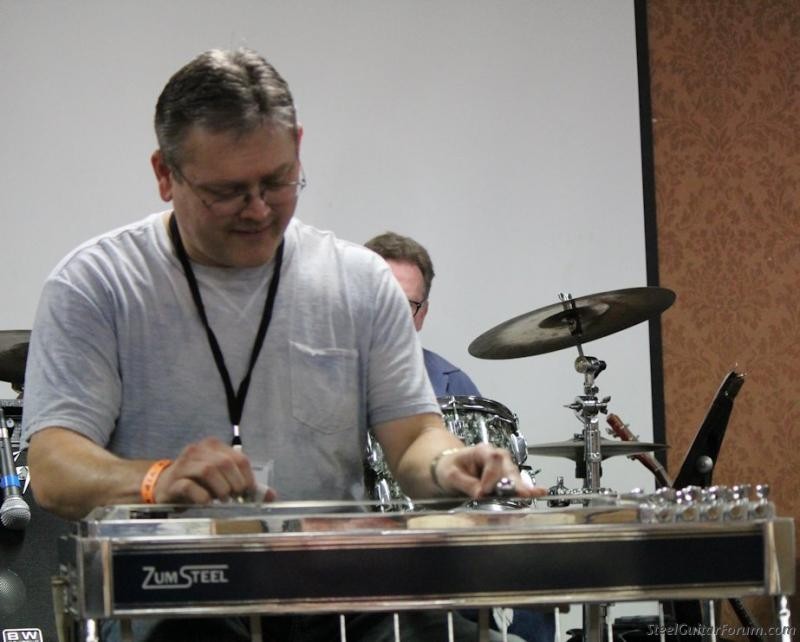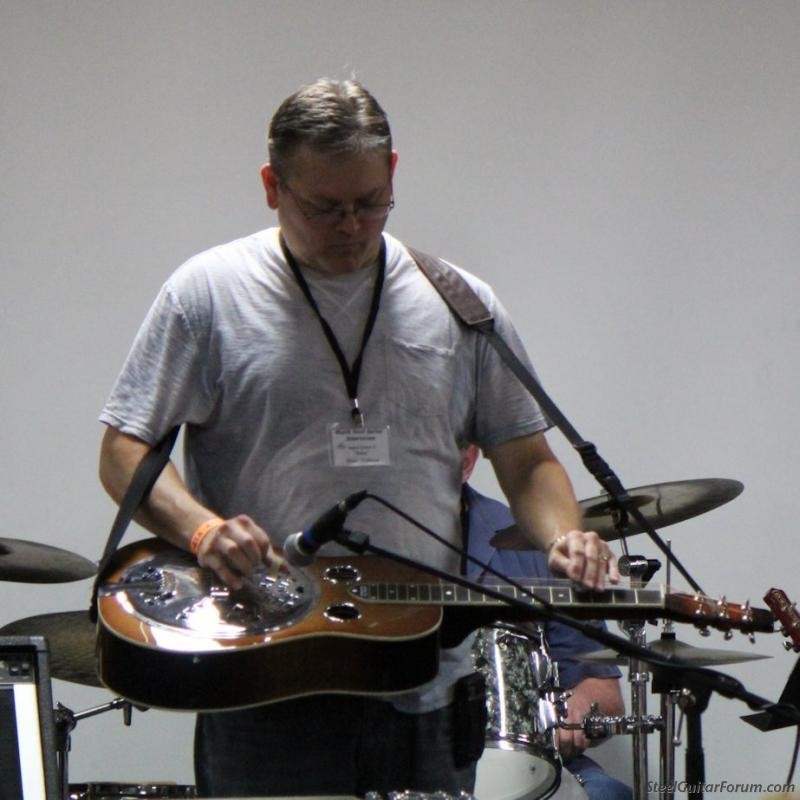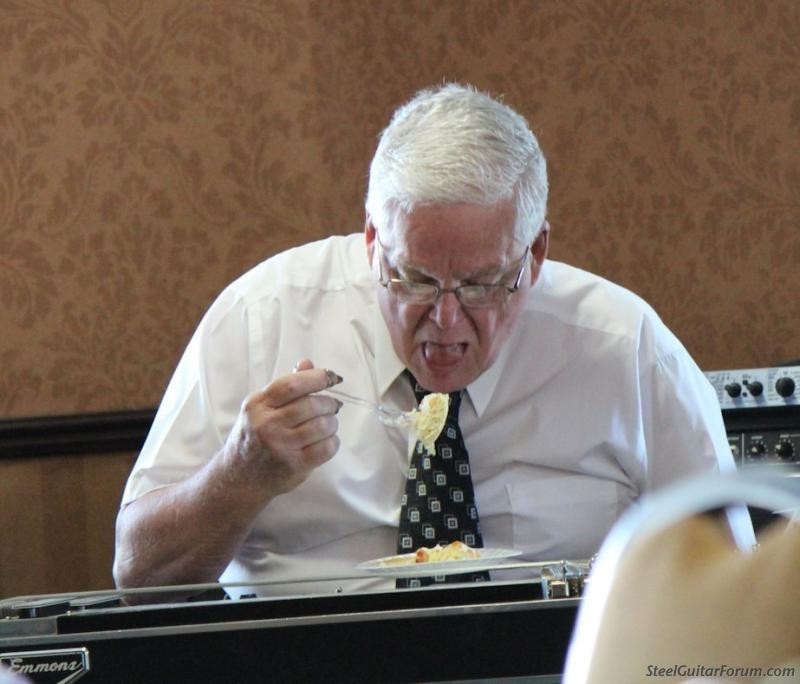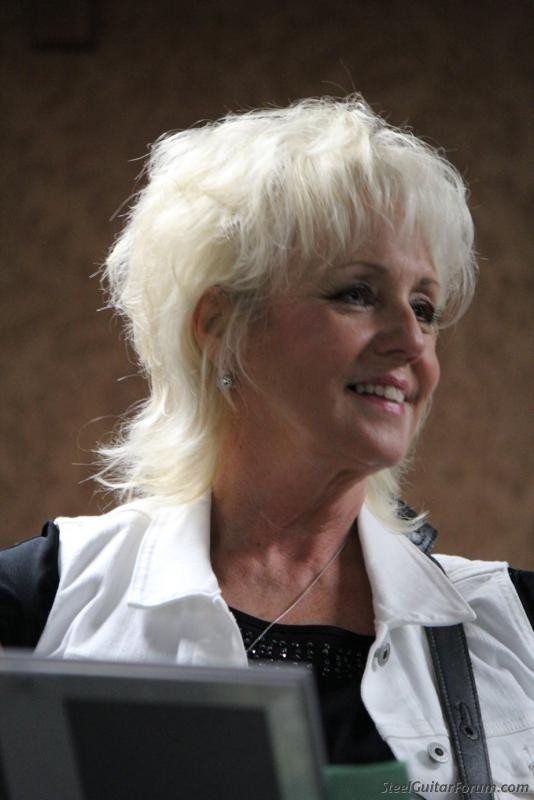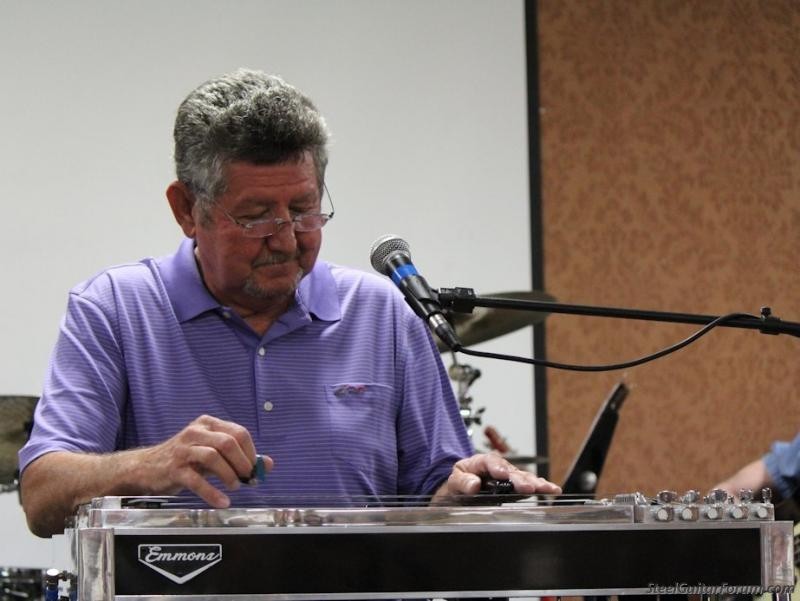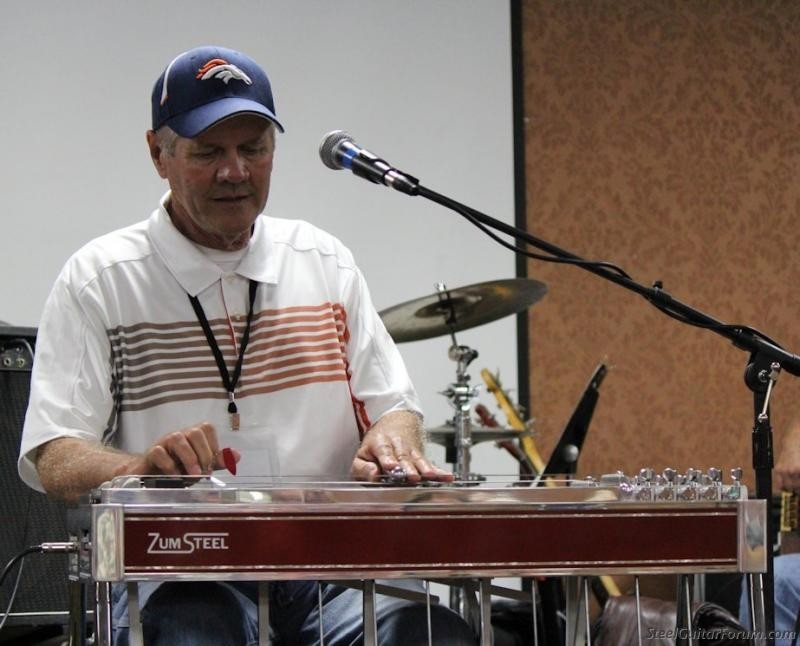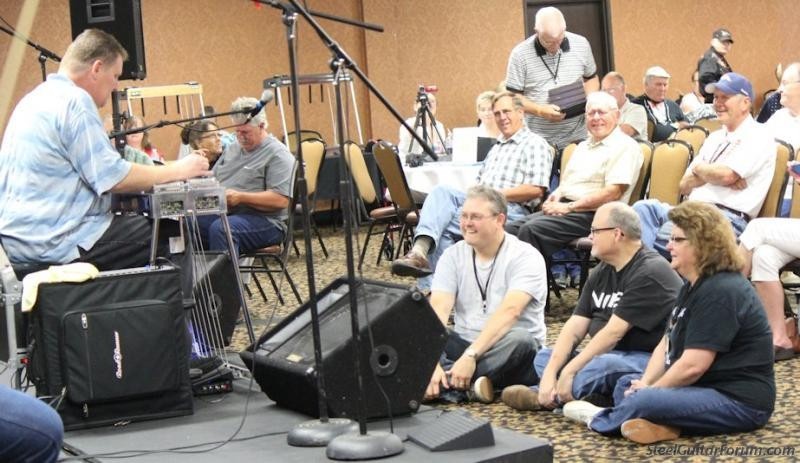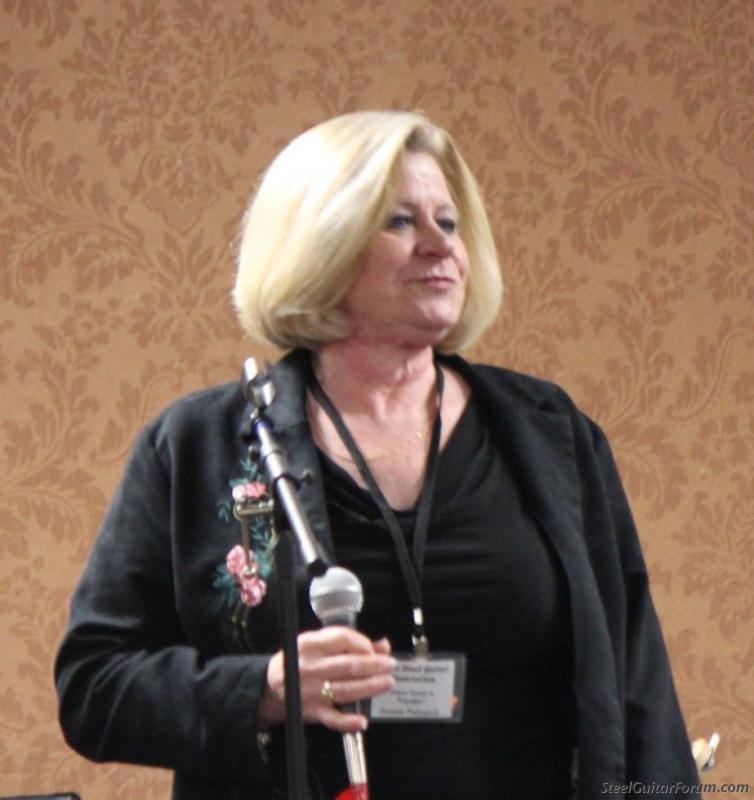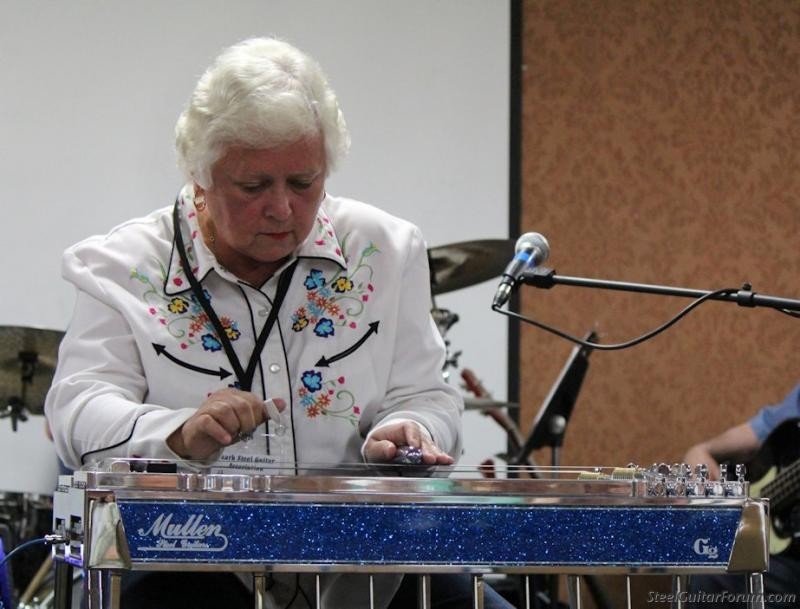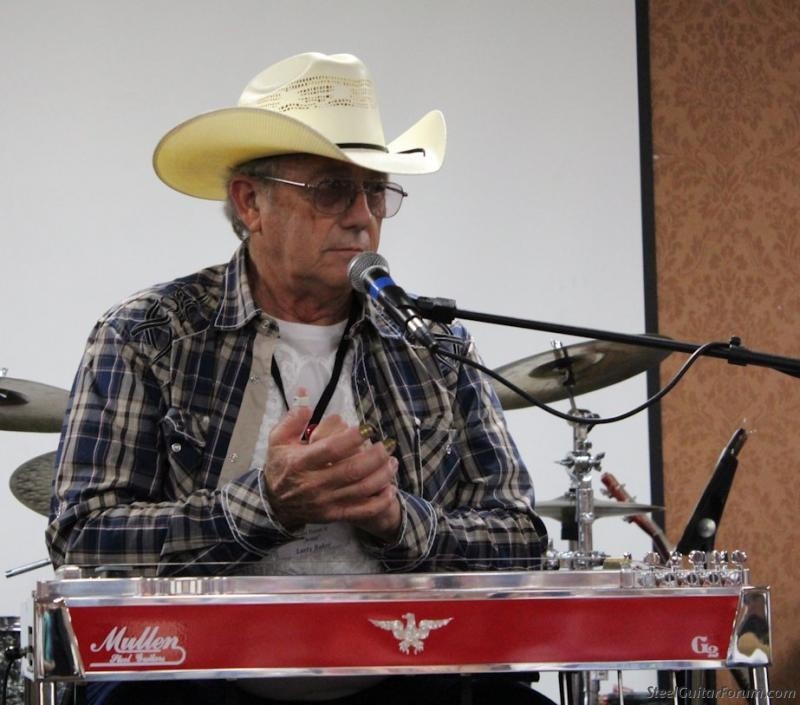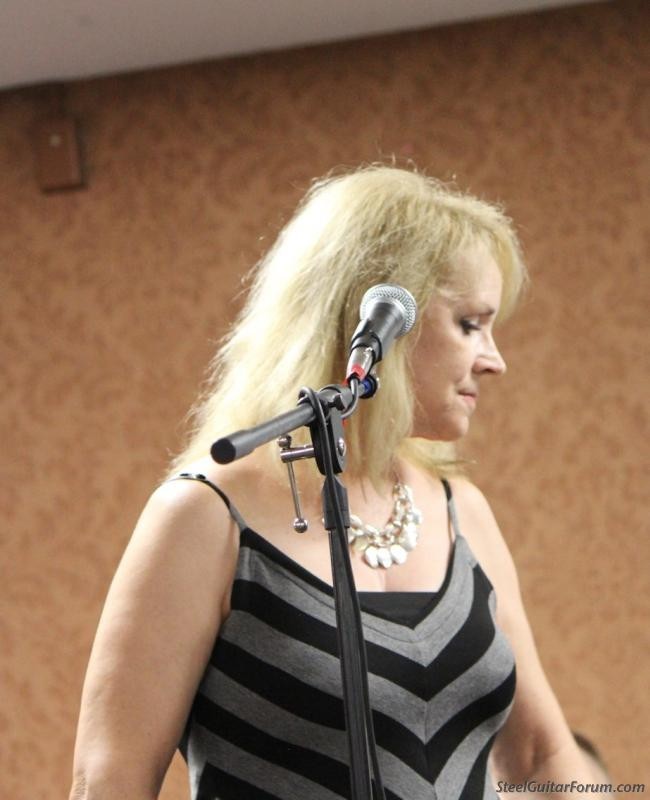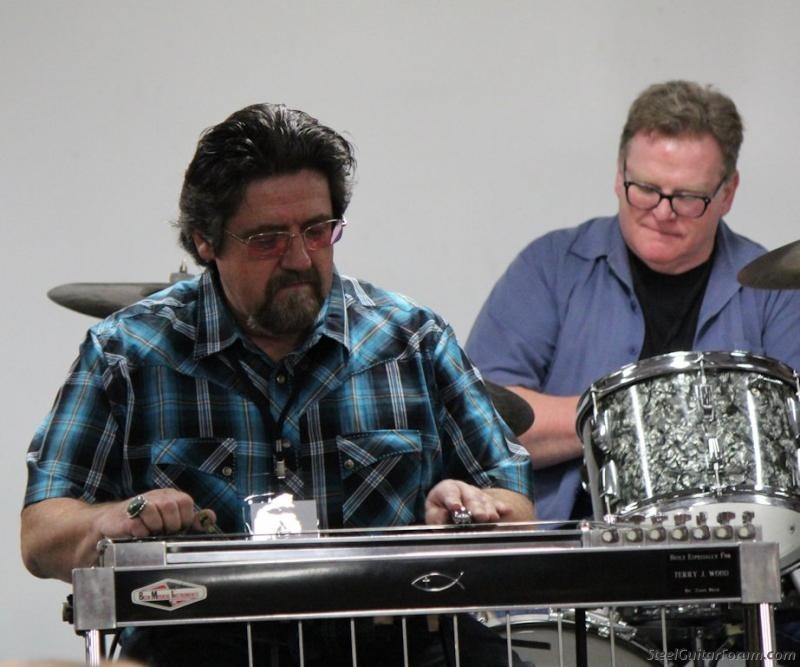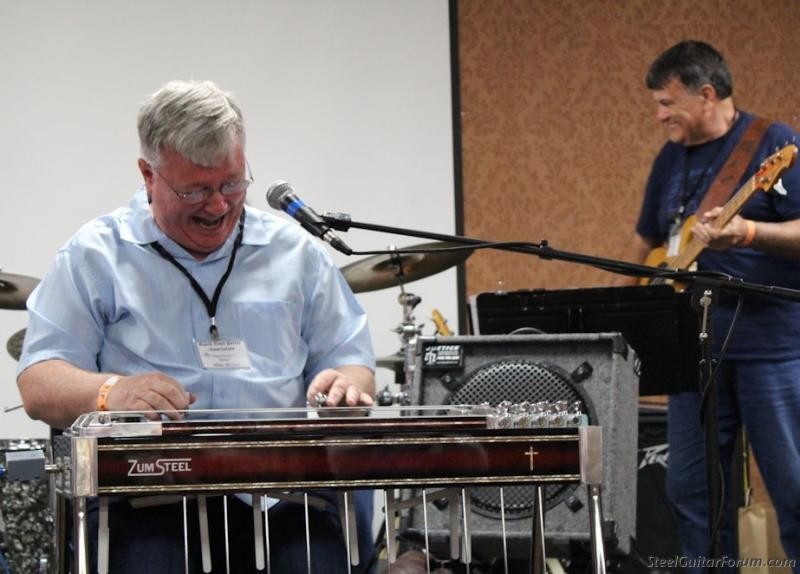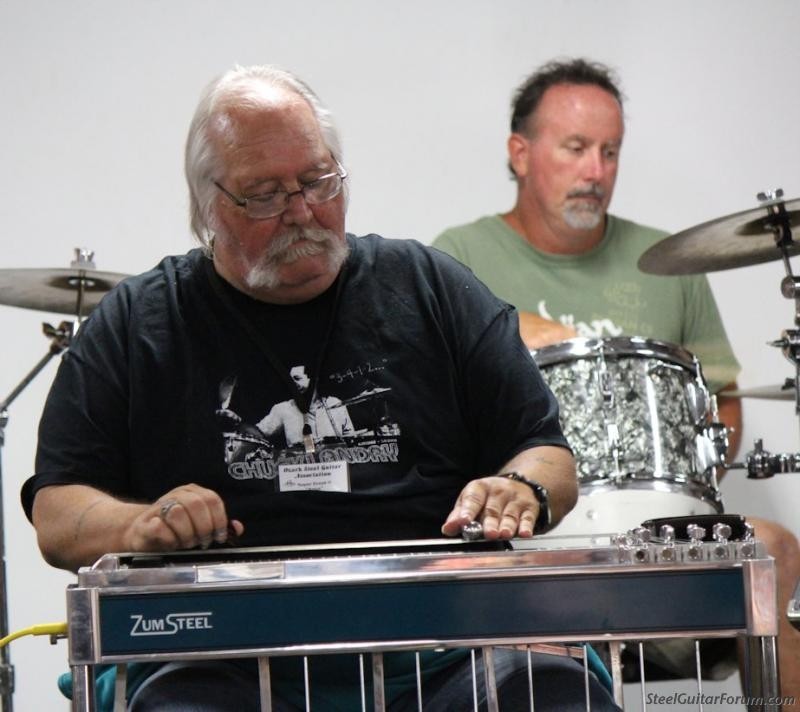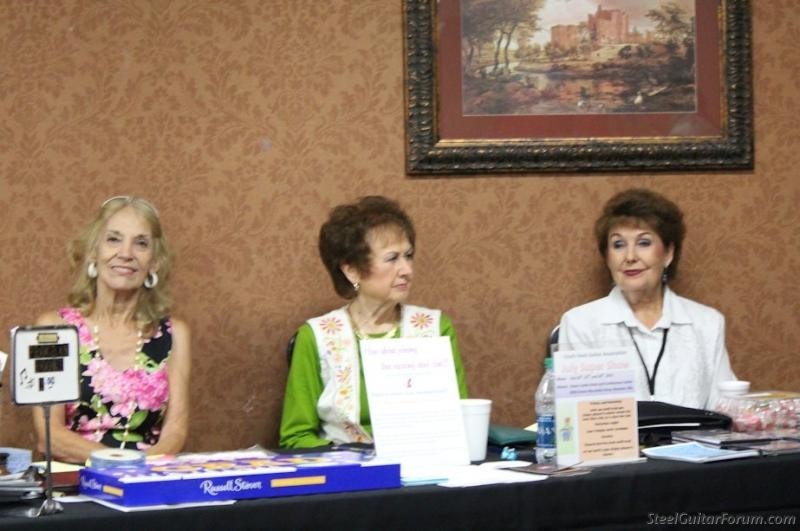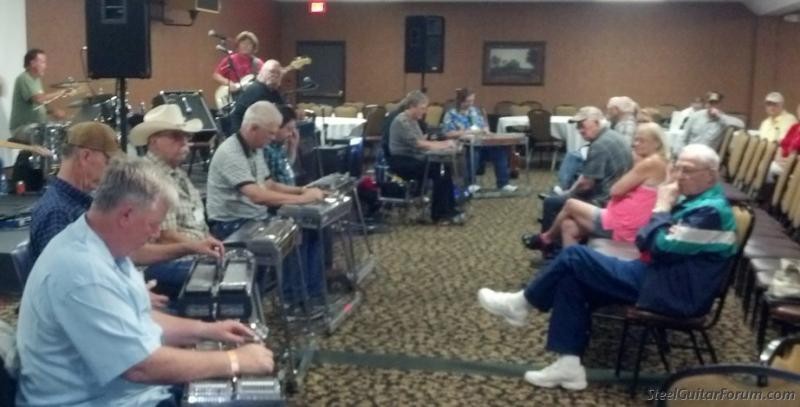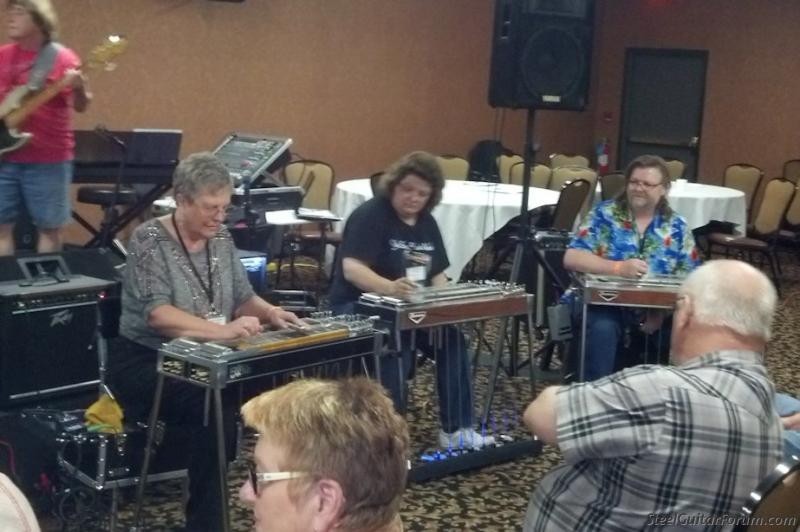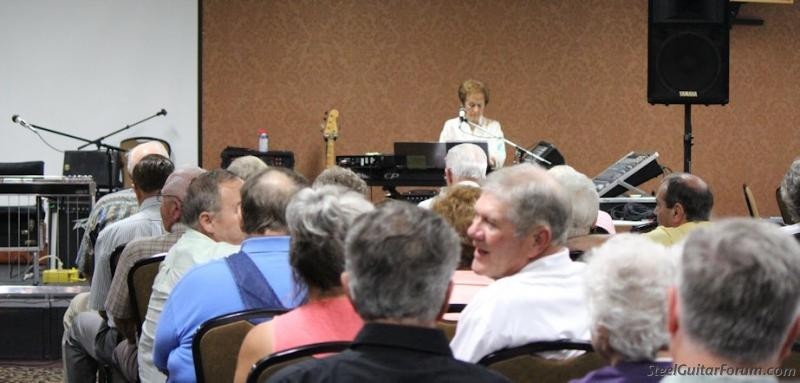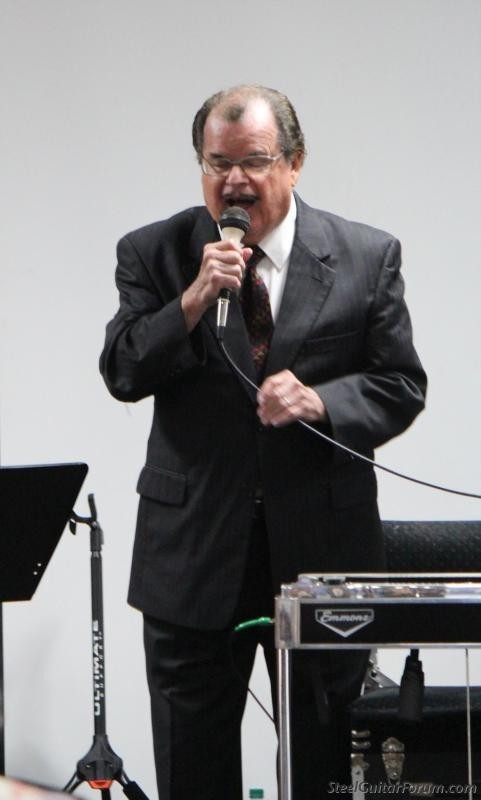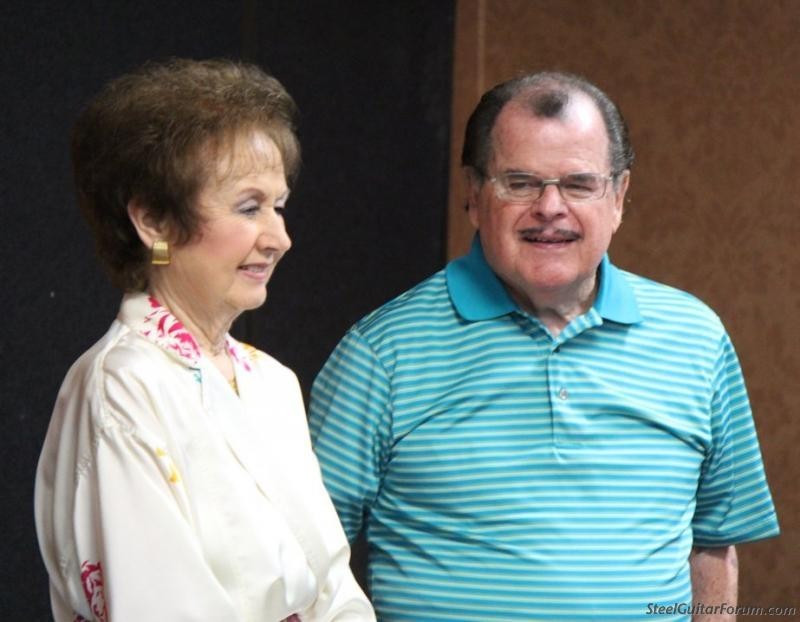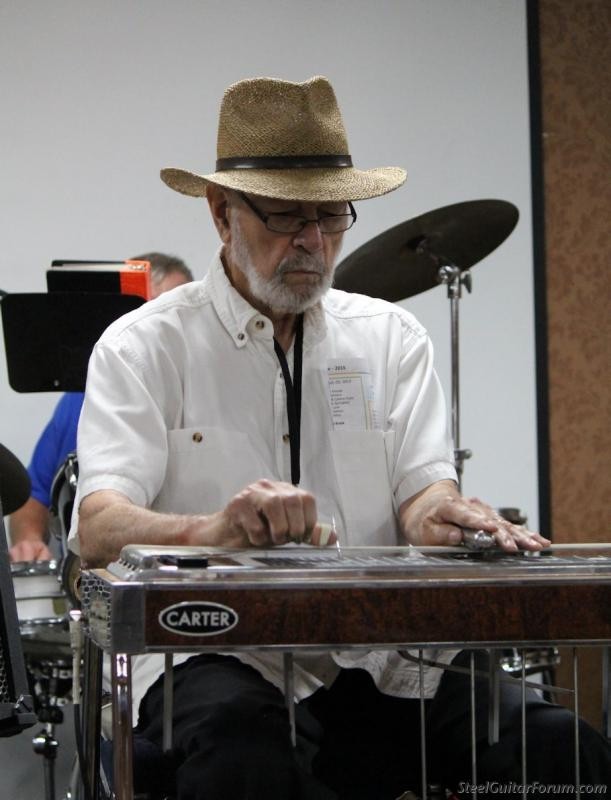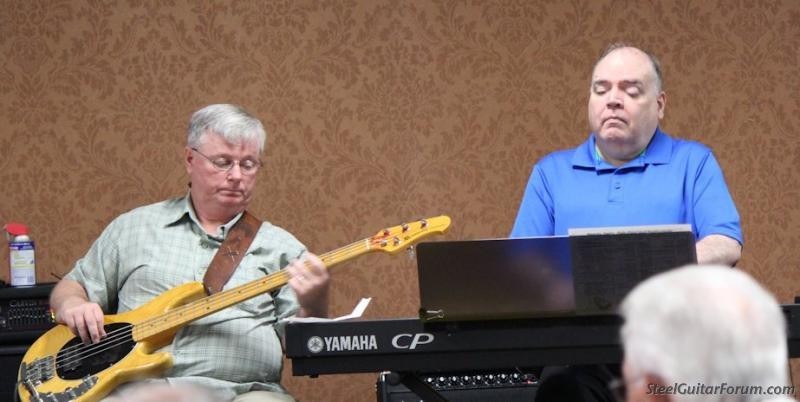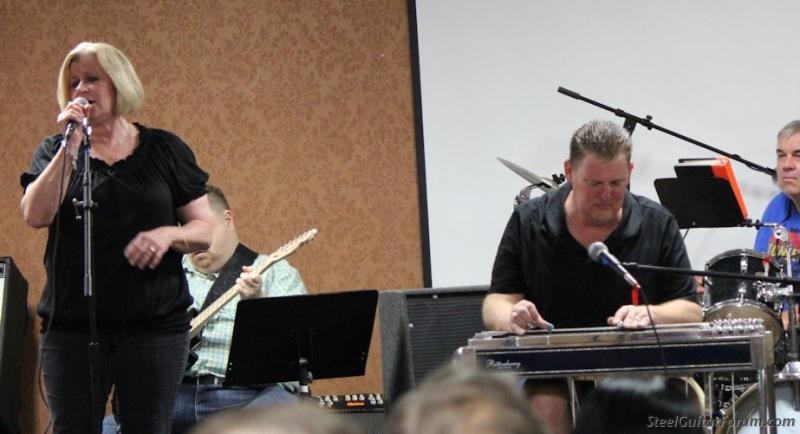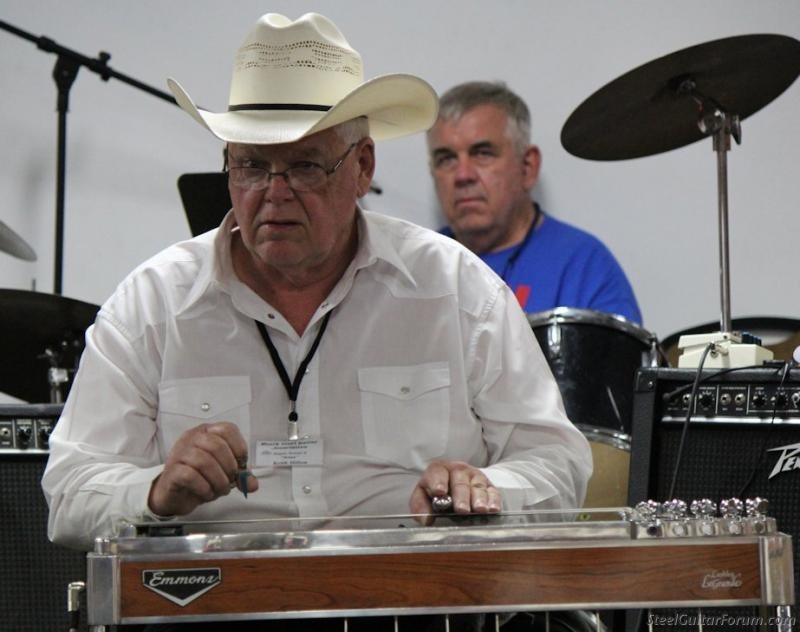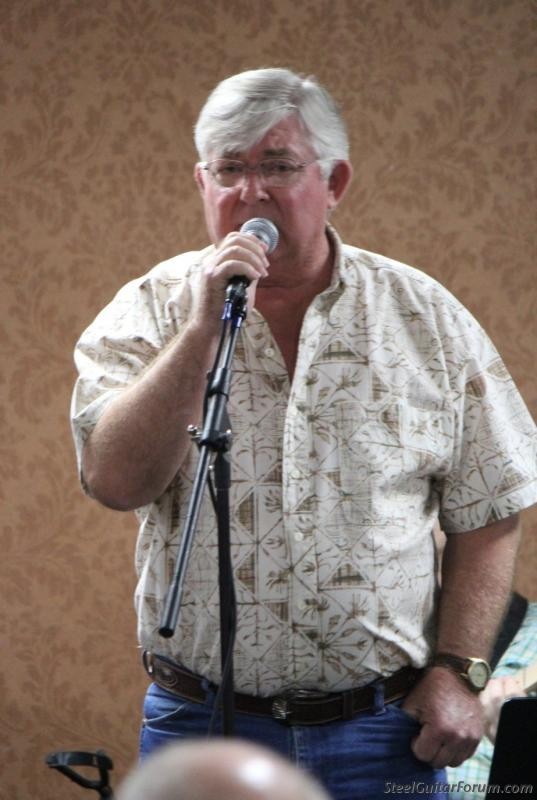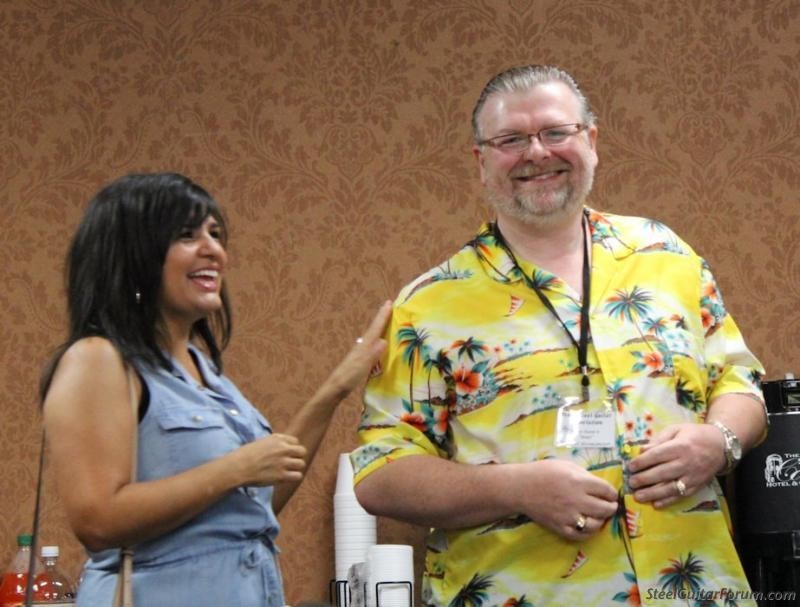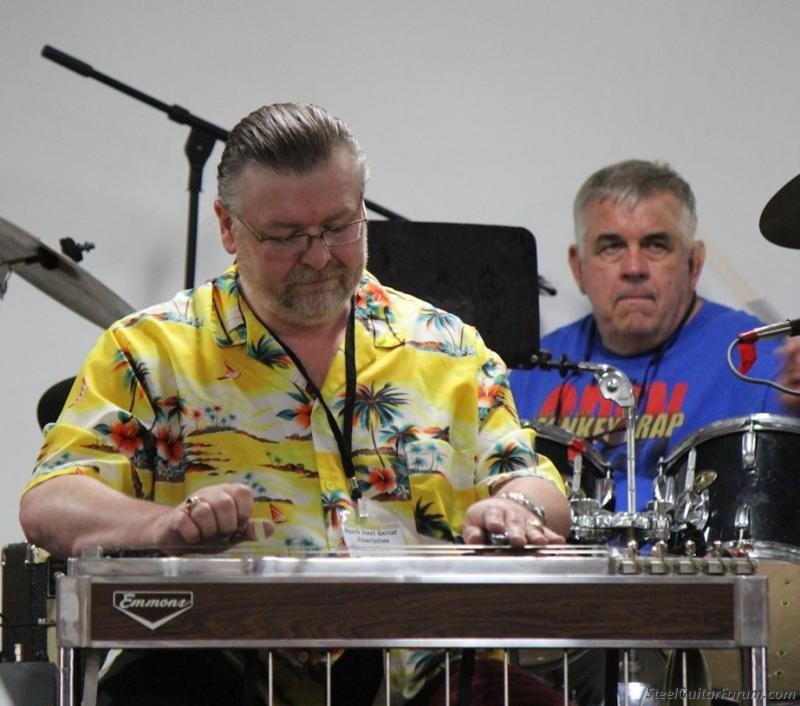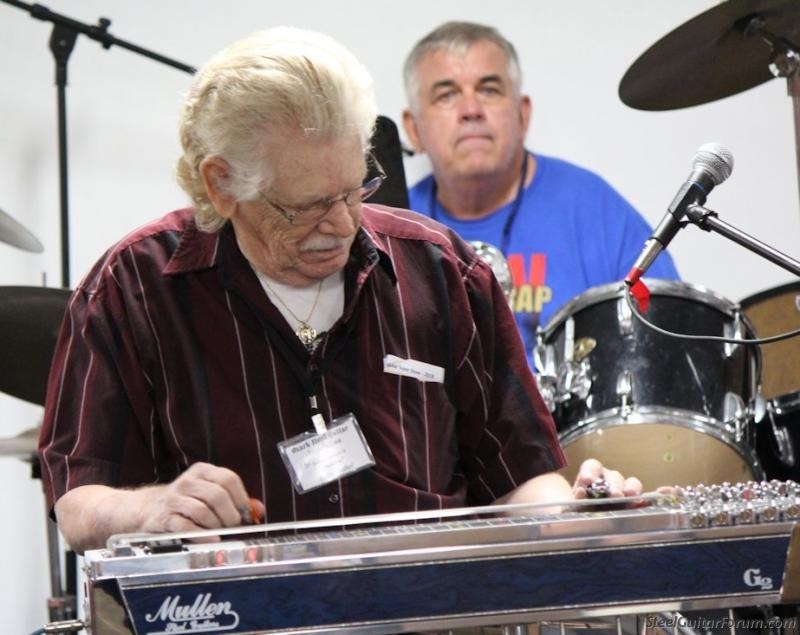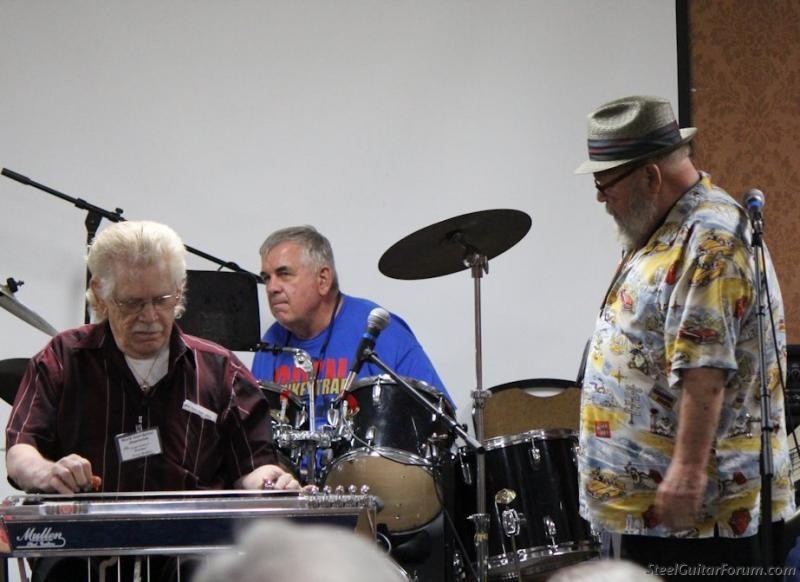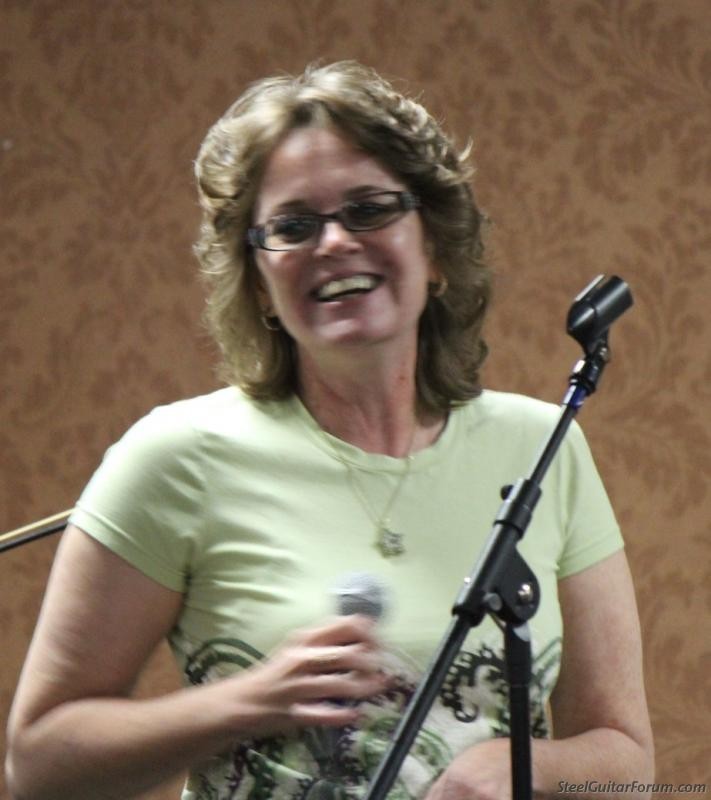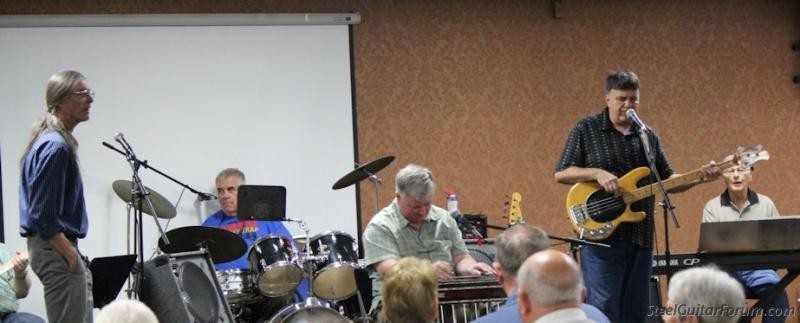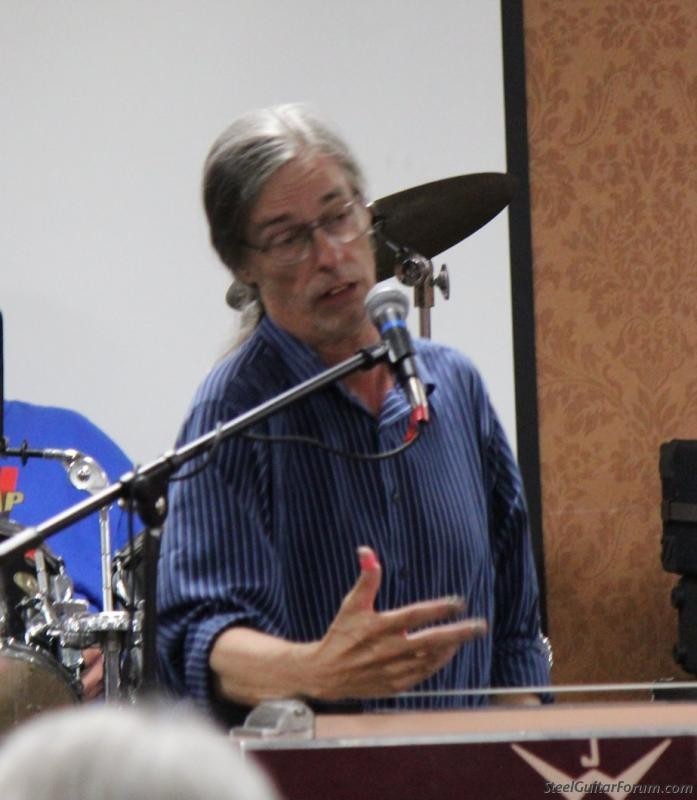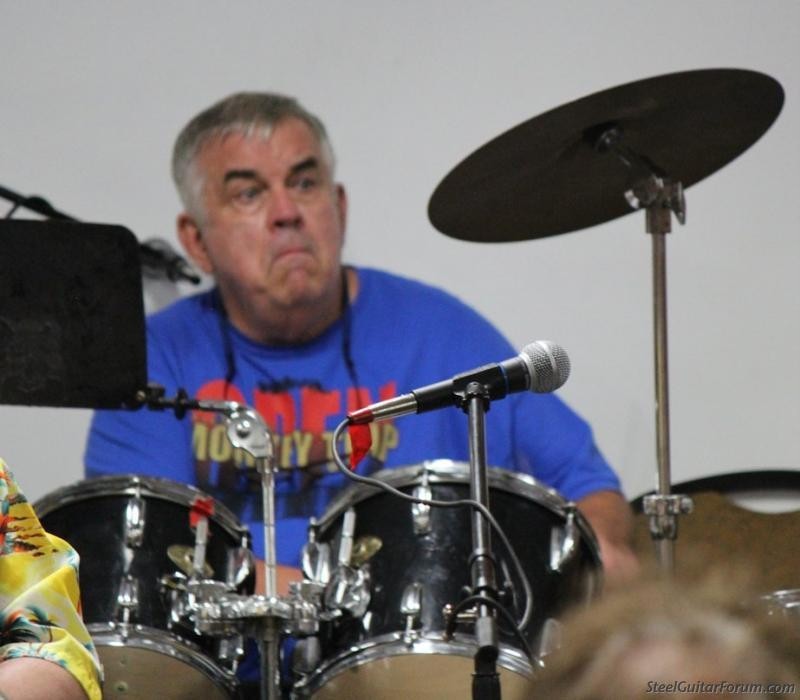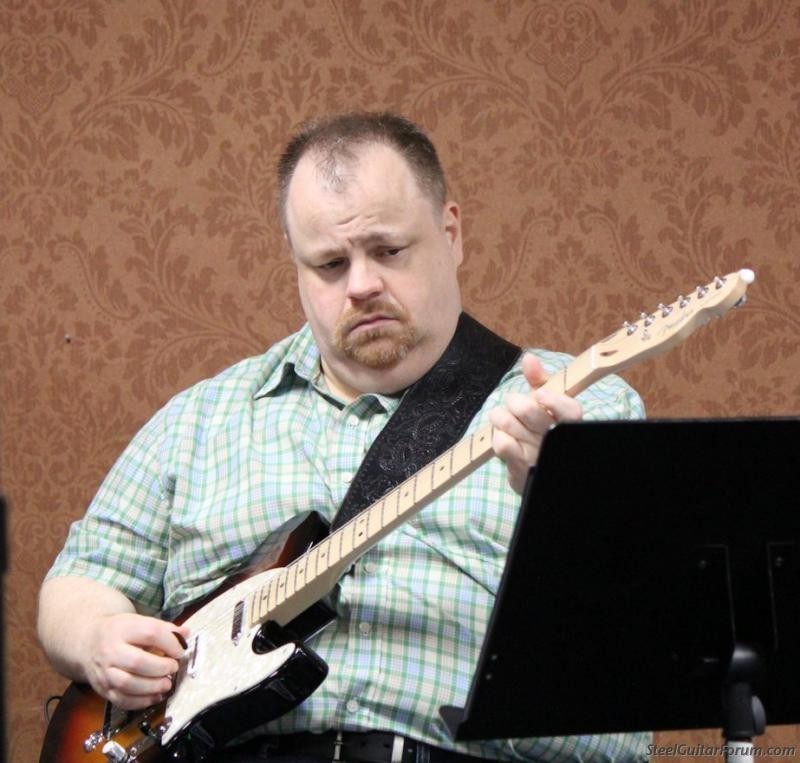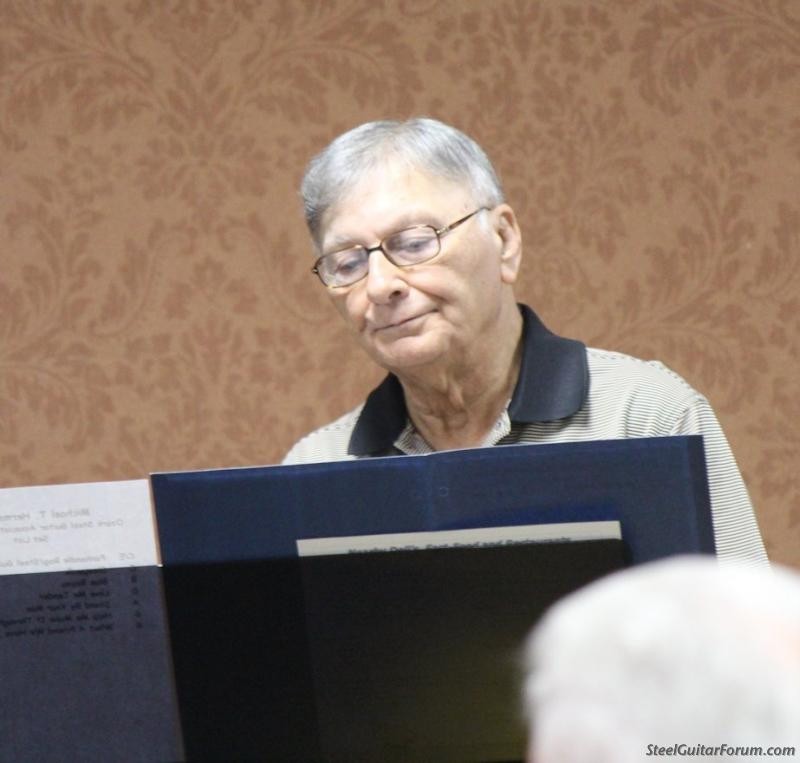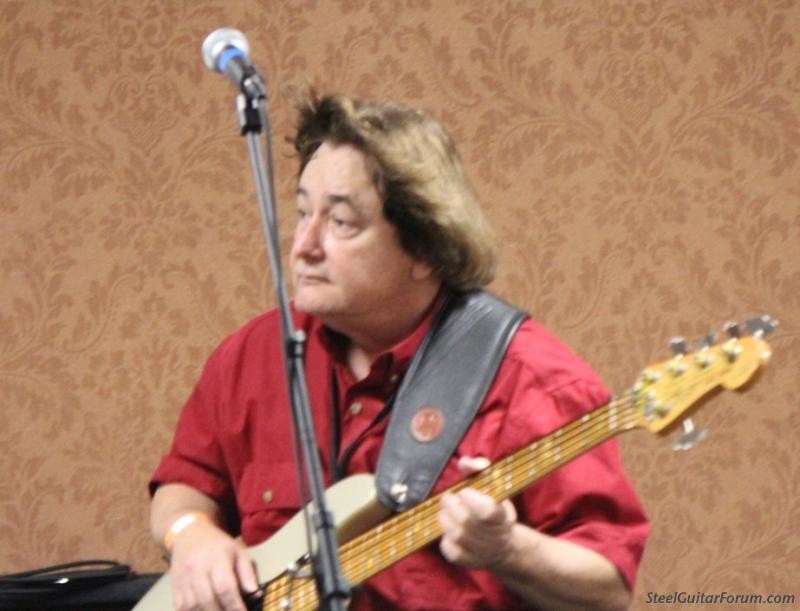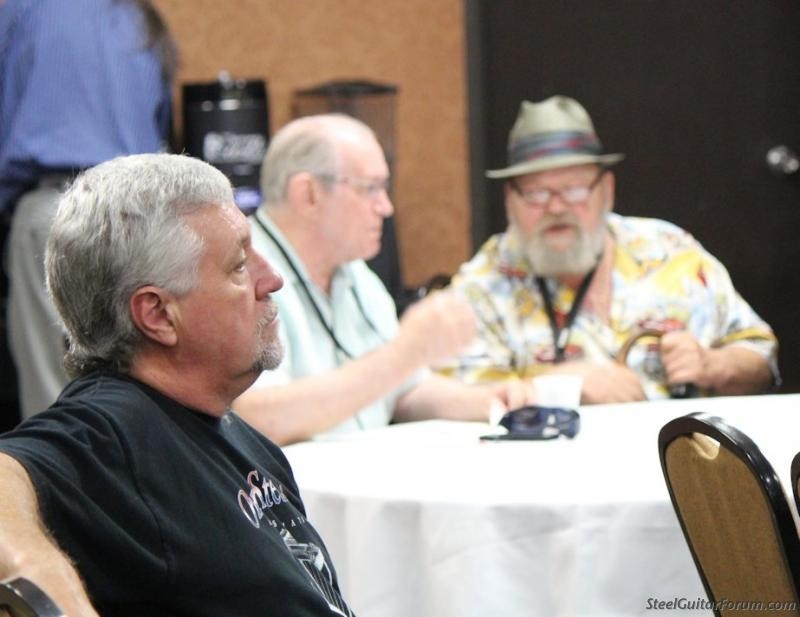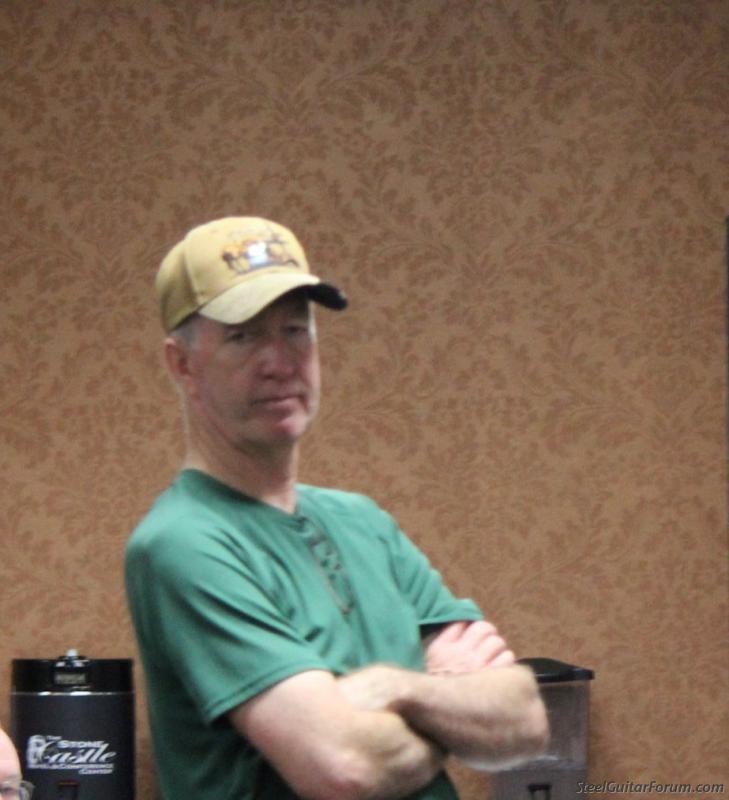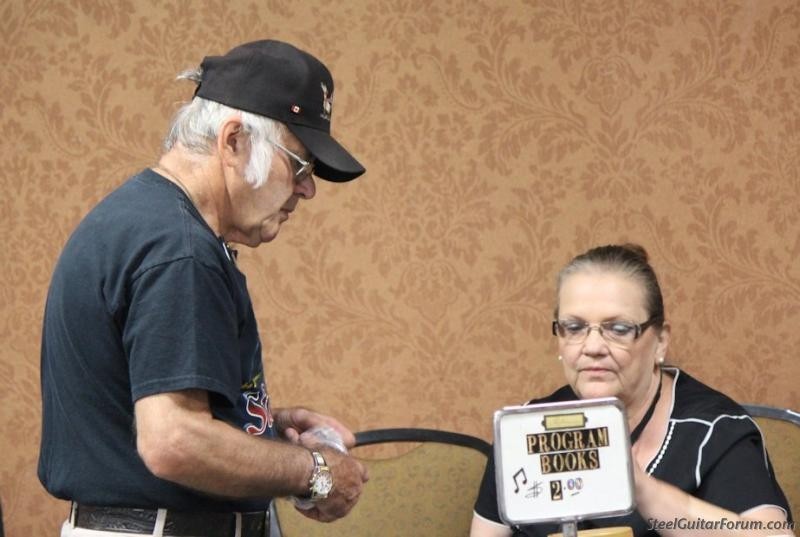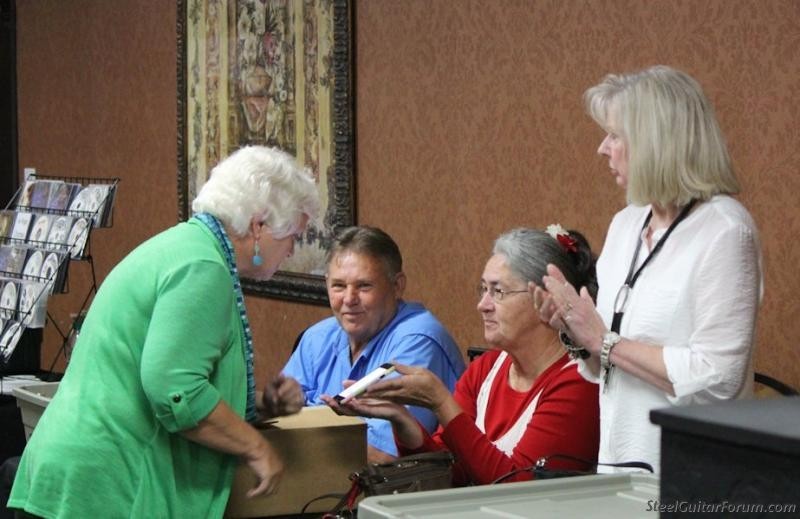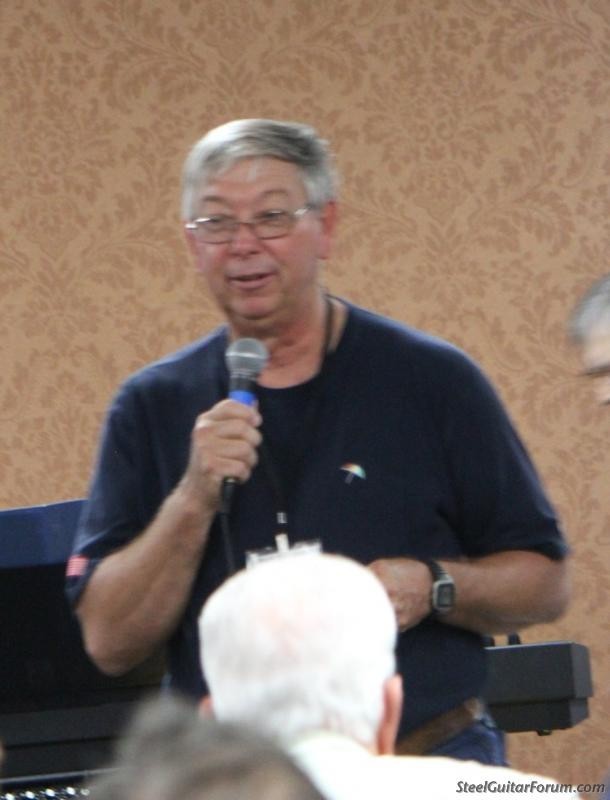 Thanks to Rosemary for the wonderful pictures...